How to do a hiking trip with kids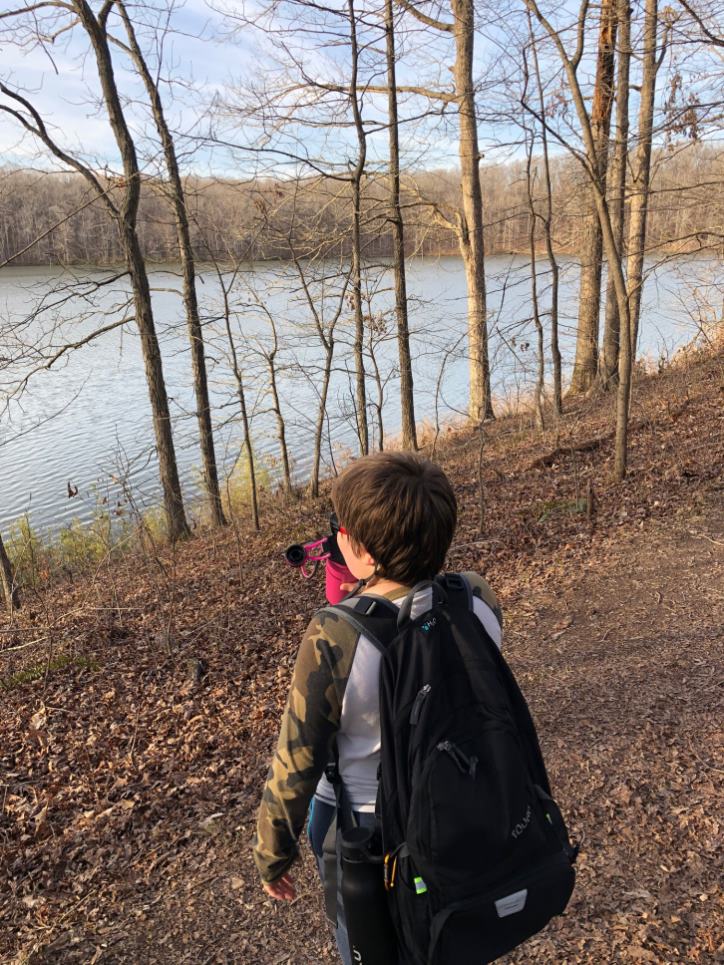 I love to hike. I love taking in beautiful trails and exploring what nature has to offer. But having kids can change your game plan when you want to go hiking. Here is how I prepare for a hiking trip with kids.
Have a kids hiking trip gear checklist
Having a checklist for the gear you will need will vary greatly depending on how long the hike is and what type of nature you will encounter.  Will you be hiking in the spring/fall or the summer? Will you be hiking a half-mile or 3 miles? Will there be a place to swim in the middle of your hike?
All of these factors play into what you need to have and the length of your checklist. Plan ahead at minimum a few days so if you need to run by the store or order something off of Amazon.
Make sure your kids are dressed appropriately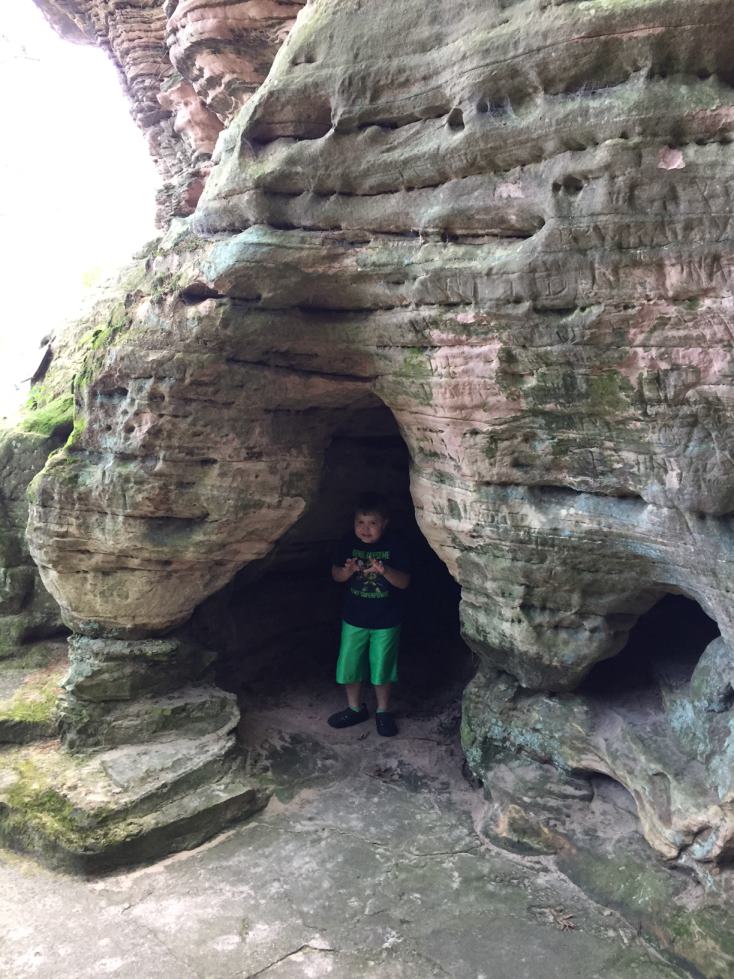 If I left it up to my kids they would wear crocs 24/7. But for most hiking excursions crocs are not a reasonable shoe. Now you don't have to go out and buy everyone top-of-the-line hiking boots. But they at least need to have shoes that fit the occasion.
If there is even a chance the trail you will be hiking will be overgrown at all I would recommend making everyone wear long pants and long sleeve shirts. Even in the summertime. Some of the reasons to wear long pants and long shirts:
Prevent getting ticks on them
Helps ward off flying insects
Protects them from poison ivy
Protect them from getting scratched by thorns
Sun protection without having to use sunscreen
Hats are always a good idea for a hike. A good hat can offer protection from sunburn on the face and keep the sun out of their eyes while hiking. 
If hiking in the cooler parts of the year I would suggest wearing layers. When they start the hike they may be cold but halfway through the hike they will get warmed up and want to start shedding jackets or sweatshirts.
Make sure to bring snacks
Anyone that has ever been on a trip with kids knows that snacks are a necessity. More so with hiking, because they will be burning a lot more calories than a typical day. Having snacks is just a good way to give them energy if they get tired halfway through the trail.

Some good trail snacks are:
Beef Jerky
Trail Mix
Granola Bars
Fruit Snacks
Fruit (Apples, Oranges, Bananas)
Just remember to take a bag to pack out any trash from the snacks. When hiking we want to make sure we leave things the same if not better so don't litter on the trails.
Bring plenty of water
On our brocation with my boys, we decided to hike a trail to a waterfall. It was a fairly warm day and the trail wasn't that long. We brought what we thought was plenty of water. We were wrong. We made a wrong turn and hiked an additional half-mile. And then the trail was uphill back to the car which made us need water even more.
Regardless of if it is hot or not always bring plenty of water. You never know when you might take a wrong turn on the trail and end up out on the trail a little longer than expected. I would recommend a hydration pack for each person hiking with at least .5 liter of water per mile hiking. If it is going to be a really warm or humid day I would double that to 1 liter per mile hiked at a minimum.
The amount of water you may need will really depend on your conditions and how strenuous the trail is. So adjust the amount of water needed to your individual situation. Just always remember to bring plenty of water.
Research your trail
Unless you are hiking on a trail that you have been on many times, I would suggest doing some good research on the trail you will be hiking. If you google around much you can find some really good sites that will layout the trail you are taking and maybe give you some good tips while on the trail.
Alltrails.com is one of the top trail sites around. Pretty much any trail you can think of is on their site. And if you sign up for their pro plan you can download the trail map on your phone and have the app help guide you so you don't get lost.
Alltrails.com also has reviews from people that have hiked the trail before. These can be really helpful as people can let you know if there are any issues on the trail, such as a fallen tree, flooded path, or maybe even a trail closure. You can also get some good tips if the trail isn't well marked.
If you are hiking within a state park or conservation area you can typically check out their websites or Facebook pages and find up-to-date maps and info that might help you out on your hiking trip.
Takes lots of breaks
When you are on a hiking trip with kids make sure and take lots of breaks. Kids have lots of energy but sometimes that energy comes in bursts. When hiking pay attention to their attitude and what they are saying. If you think they are wearing down a little, take a short break and get a drink of water or just have them sit down for a bit. 
If you skip the breaks then the last part of the hike will be a painful experience. You will probably hear "are we there yet?" about a million times if they are worn out by the end of the trail. By taking breaks they will have so much energy they might run the last part of the trail.
Don't forget the toddlers and babies
If you have toddlers or babies and you want them to come along make sure to have extra preparation. Invest in a good hiking carrier for toddlers or maybe a baby sling for your babies. Also, plan for extra time because if your toddler wants to get down and walk they will slow down the group tremendously.
Make sure to pack changing supplies if they are not potty trained. And have bags to pack out any dirty diapers. You may also want to pack a change of clothes in case they have a blowout on the trail.
Remember the six essentials
In scouting when we go out on a hike we have what is called the six essentials. These are six essential things a scout should always have on them when hiking.
A first aid kit
We call it a boo-boo kit. Something light to pack along containing some bandaids, gauze, antibiotic ointment, pain medicine. Just something to patch up a small issue (aka boo-boo).
Water bottle or hydration pack
As stated previously make sure and take water. Even on short hikes, it is safer to bring some water.
Flashlight
Even if you are hiking early in the morning and have no plans to be out after dark. Take a flashlight. If you get lost and end up staying in the woods for the night. You will be glad you had it.
Trail food or snack
Always bring a snack to provide some energy while on the trail. Snacks are also important if someone has blood sugar issues in your family. It might save their life on the trail.
Sun protection
Long sleeve shirts, pants, and a hat are best. But if you are in summer and the trail is well maintained you may just want to have sunscreen.
Whistle
In the woods, if you get lost you may not be able to make enough noise to be heard. This is shocking if your kids are like mine and they can be heard from across the state. But a whistle is important to get attention in the event you are lost.
Other considerations to bring on a hiking trip with kids
I would also add bug protection as my seventh essential item. When hiking on trails there are a few bugs that can make a hike miserable. Ticks and mosquitos. If you are hiking in the summer months or early fall/late spring you may want to apply bug spray. This will help keep the bugs away and hopefully the ticks off of you.
You may also want to pack some toilet paper. It doesn't matter how many times you ask your kids if they need to use the bathroom. They will always have to go as soon as you get on the trail. And if they need to do number 2, you don't want them wiping with leaves. I would say please if at all possible don't let them use the bathroom on the trail. But in an emergency, you do what you have to do. Just make sure it is done the right way.
---
When going on a hiking trip with your kids one of the key things to remember is to have fun. But in order to have fun, you need to make sure you are prepared. I always say it is better to have something and not need it than to need something and not have it. So make sure you have everything planned out and have a great hiking trip.
Have any more tips for hiking with kids? Drop us a comment below or let us know on our Facebook page.