Our 2020 Brocation
Every year my 3 sons and myself set out for an annual brocation. Typically my wife has to work right before school starts so the boys and I go on a short vacation with just the guys (hence the term brocation). For the brocation we try to keep it cheap, we drive in a cost efficient car to save gas, we brown bag breakfast and lunch when possible, try to do outdoor locations that are free or inexpensive, and stay in cheaper hotels or camp out.
In recent years my oldest son is working a job that he doesn't get a lot of time off so we have been traveling to his house and making his house the brocation base. This year we just traveled a few hours from his house to the south/southeast part of Kentucky in the Cumberland region.
Cumberland Falls
Our brocation started just outside of Corbin KY at Cumberland Falls State Park. I found an inexpensive hotel room at the lodge in the state park so we started there since we were staying the night in the area.
We arrived shortly after lunch and found the picnic area just past the falls area and sat down to eat some lunch. We explored the picnic area for a short while and found some interesting rocks to climb around but there wasn't a lot there.
We then proceeded just across the road to the main falls parking lot. It was a Sunday afternoon so the parking lot was jam packed full of visitors. As you walk toward the falls you come upon a gift shop and a snack bar. There was even some older gentlemen playing some music.
As we looked around you could see some areas closed off to view the falls from the upper locations. I imagine this was either because of maintenance issues or because of the current pandemic. But either way it would have been cool to get closer to the falls from the upper portion.
We found a trail map and found the viewing locations for the falls from the lower side. So we hiked down the trail so we could get some pictures. While we were taking some pictures a raft was making its way up to the falls. There is a company in the area that will raft you right up to the falls. It was a little pricey for us so we skipped the boat tour.
Eagle Falls Trail
Eagle falls trail is right across the river and runs along the side of Cumberland Falls. There is limited parking and on a busy weekend you might not find a spot. Luckily there is an additional spot to park just up the road but it requires you to walk along side the road so be careful if you are taking younger kids.
There is a posted sign that pets are not allowed on this trail. This trail runs right on the edge of a cliff so if you cross paths with other people there isn't much room for people to get out of the way. This trail has a moderate incline up to about the half way point and then is downhill to the falls. But remember when you come back out you have to track back up the hill. So it is literally uphill both ways. But the views from the trail make the uphill track worth it.
Eagle Falls Trail Views
You have to be careful as the trail loops around at one point and if you make a wrong turn your short hike will turn into a 2+ mile journey real quick and you will completely miss the falls. We found this out the hard way but luckily we didn't go around the entire loop and some of the features we saw on our wrong turn were worth the side track.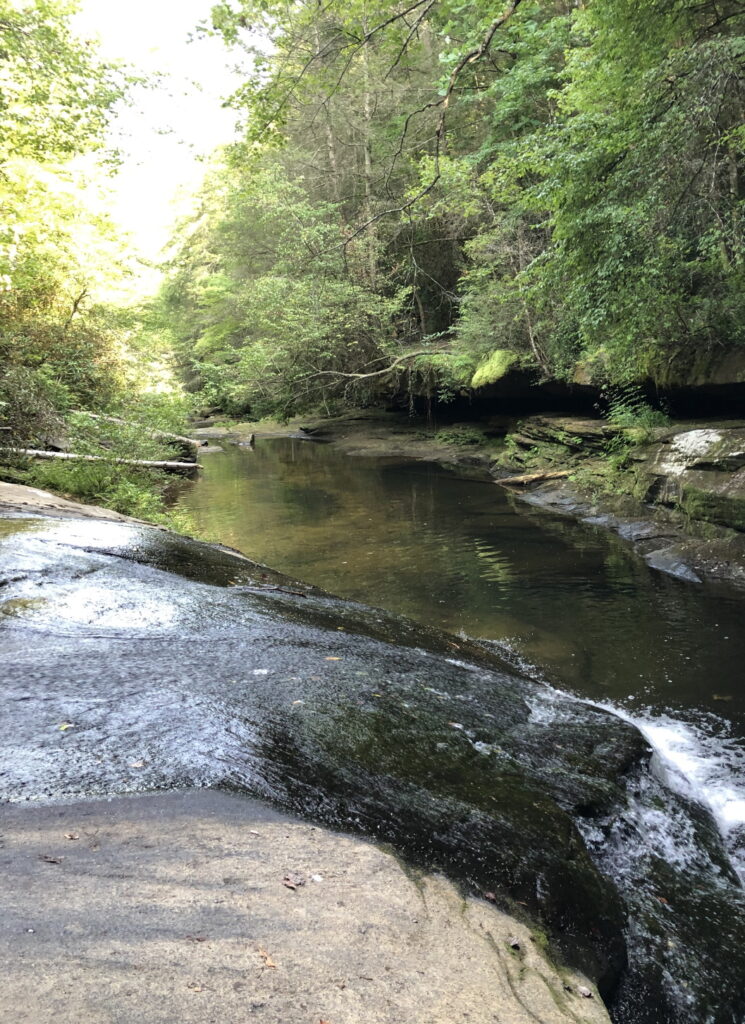 Eagle falls was pretty impressive. There is a little area the kids can get in and swim around. And even enough water to maybe take a few jumps from the rocks. I was a little disappointed that people have trashed up the area but I have come to expect this. Anymore when we hike the kids and I take a bag to carry out trash.
Chained Rock
The next stop in the brocation was Pine Mountain State Park to see chained rock. At the top of the mountain sits a few interesting sites. There is a lookout that gives a wonderful view below and there is a trailhead to a few trails that run down the mountain.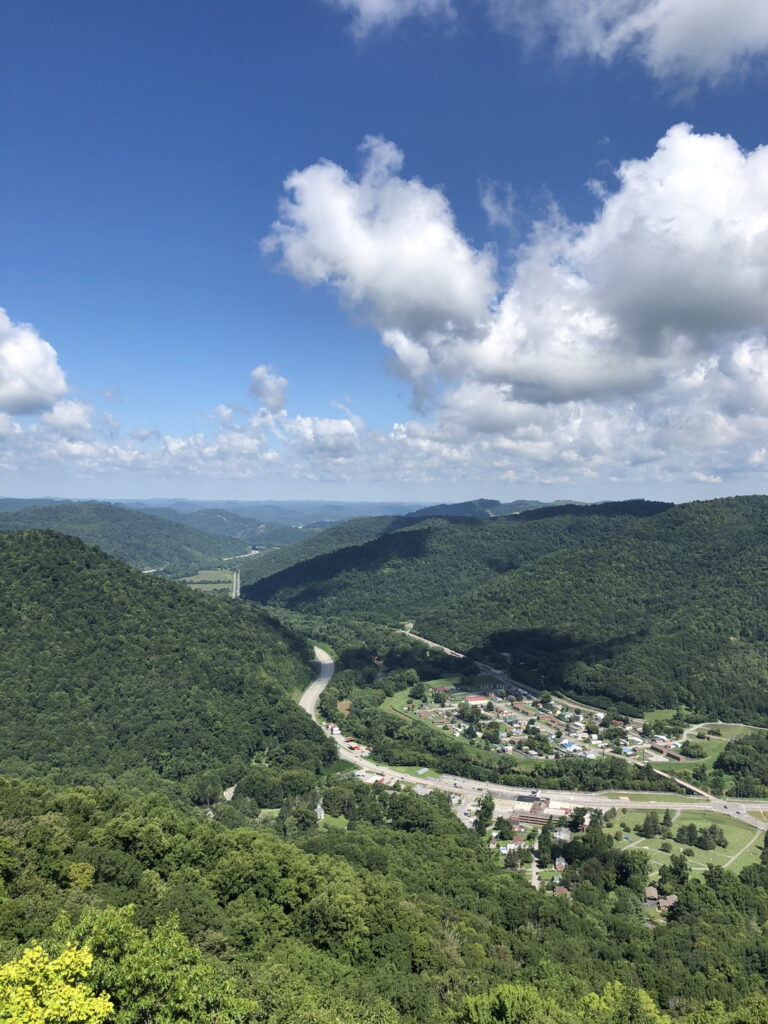 Chained rock trail is an out and back .5 mile trail. It is mostly downhill so coming back is a little bit of an uphill climb. The one thing to note is when you get to chained rock there are no rails. If you make a bad step you are going down the mountain so if you bring young kids please use caution.
Chained Rock
The story behind chained rock is quite interesting. My kids got a kick out of the story and here is a link where you can read about the history and why they chained this rock.
Cumberland Gap National Historical Park
The final stop on brocation was just a few miles south of Pine Mountain State Park on the Tennessee/Kentucky border. Cumberland Gap National Historical Park is a huge area that covers 3 states. Within the park there are several locations to visit. The boys were ready to head back and not up to do any more hiking so we just did a few highlights and took in the views.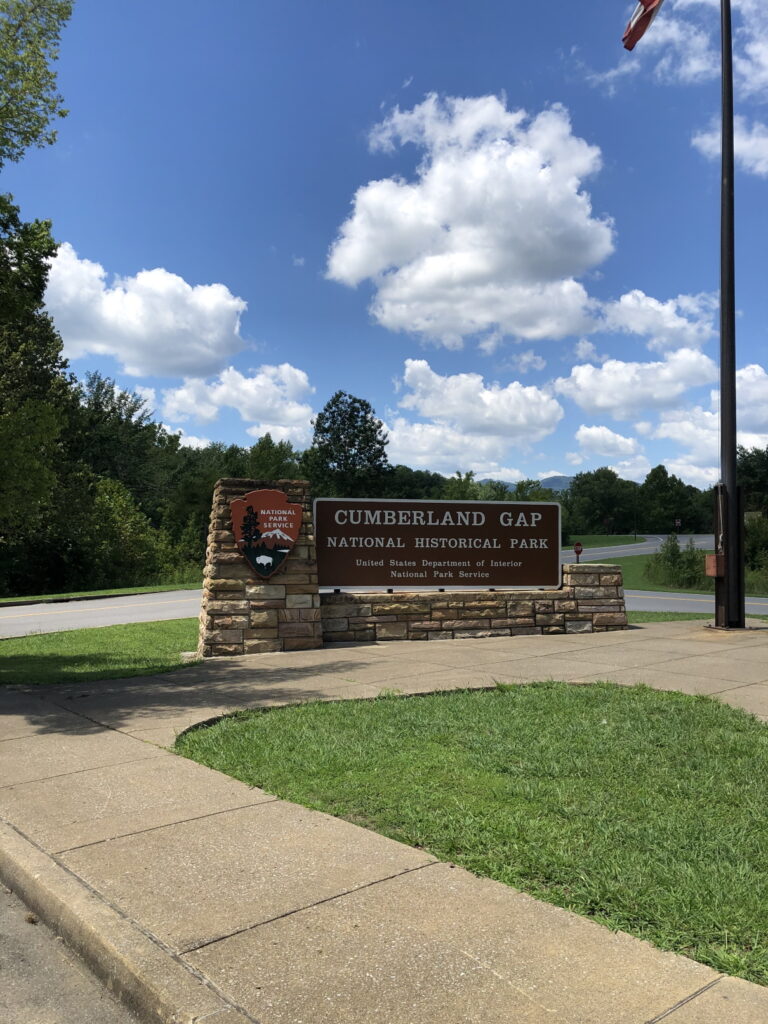 Pinnacle Overlook
At the visitor center they recommended this over everything else. You take a quick drive out of the visitor center parking lot and wind your way up the mountain. I found it interesting that you park in Kentucky in the parking lot. Take a short trail to the overlook which is in Virginia and the overlook you can see 3 states.
Pinnacle Overlook at Cumberland Gap Historical Park
Along these trails is also a civil war fort. If you are into civil war history you can still see the embankments that were created to post cannons to defend the Cumberland Gap.
Highway 25 tunnel
On our way down to the Cumberland Gap National Historic Site we kept seeing signs saying no explosives in the tunnel. Seeing that we had never driven through a tunnel like this we had to take the quick trip. Essentially they dug a huge road right through the mountain side. Not a lot to see but was interesting and I think the kids thought it was cool.
I always enjoy getting to spend time with my boys on the brocation. They are getting older and pretty soon they will all be out of the house so I cherish these trips while they still are at home.
Do you have a unique vacation you do with your kids like the brocation? If so let us know in the comments or head over to our Facebook page and let us know.