Fall backyard activities for toddlers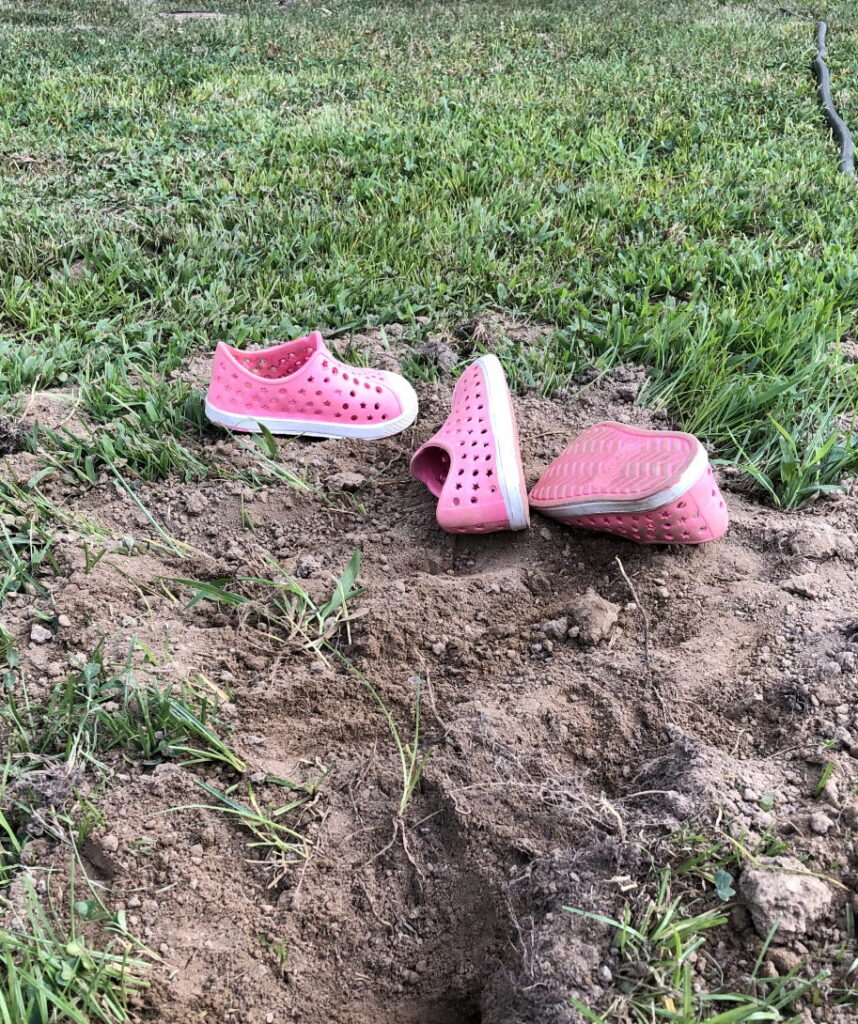 As fall starts this weekend it looks like we will finally get cooler temperatures. My little ones love to play outside, so much so that they get upset if I tell them they can't go outside because it's raining or it's too hot.
But now with the cooler weather, we can stay outside longer and hopefully not have to worry about mosquitos. This also means that I have to be more creative with backyard activities.
What makes a good fall backyard activity for toddlers?
Any backyard activity you choose for your toddler needs to be age-appropriate. You need to make sure whatever activity you decide to go with is safe and you have removed all possible hazards.
Backyard activities for toddlers should also include some sort of learning component. The good news is that most toddlers can learn something from about anything. Anytime they are jumping or moving their body they are learning new things that their body can do.
Also anytime you can incorporate numbers or letters or colors in the activity this double downs on the learning component and can help your toddler learn at an increased rate.
How do I keep my toddler safe while doing backyard activities?
Be aware of the surroundings in your backyard. Toddlers love to stick small objects in their mouths and this can be a choking hazard. Do not leave your toddler unattended at any time.
Also, be aware of any sharp objects in your backyard. A stick or a nail coming out of a swingset can lead to a quick trip to the emergency room.
Make sure anything that requires assembly has all safety precautions in place. If you have a swing set or something they can climb on make sure there is a good ground covering that is safe if they were to fall.
Sandbox
Sandbox activities are a great backyard pastime. The kids can get some toys out and play with them in the sand, or just give them some small shovels and buckets and let them play away.
If you don't have a sandbox already made there are a few simple ways to get a backyard sandbox that is easy to maintain.
Buy a plastic tub. Preferably one that is only about 10 inches high. And fill with sand. This way you can put the lid on it and keep it somewhere that keeps the animals out.
Use an old hard-sided plastic pool.  Maybe the one you use for swimming during the summer has a crack in it. 
Build one out of a few scrap boards. Make a square shape and line the bottom with some weed blocker and then fill with sand.
Whatever option you choose just make sure and keep it covered or neighborhood cats might try to use it for a litterbox.
Raking leaves and jumping in them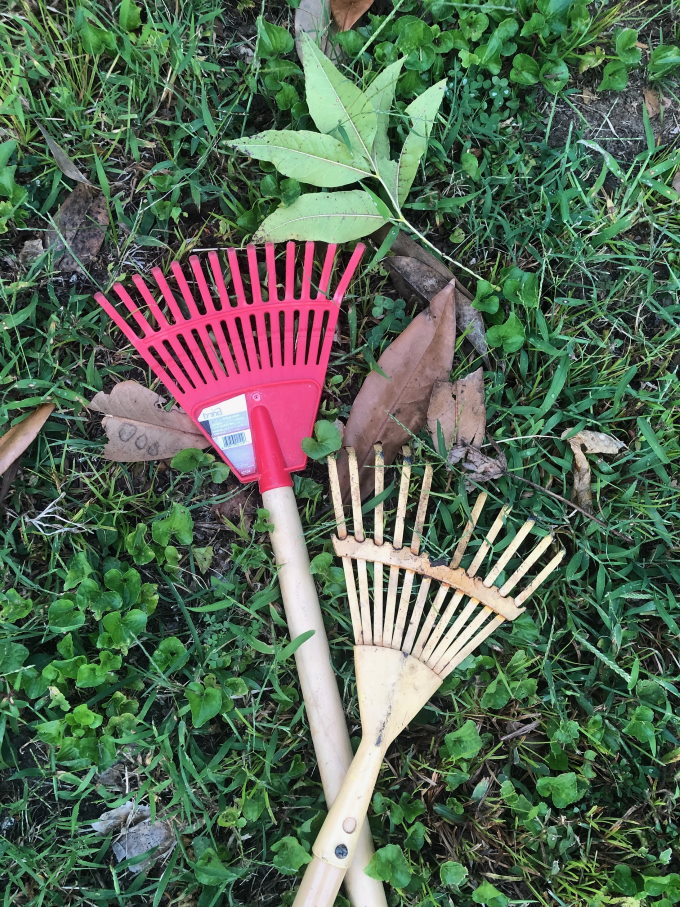 Depending on where you live the trees should be turning colors and dropping their leaves everywhere. Even if you don't have trees in your backyard there is a good chance leaves will blow into your yard from neighbors.
Just have your kids help rake. You can get some smaller rakes for toddlers that actually do a decent job. Just be careful with them as they may try to turn their rake into a sword.
And you can't just rake the leaves and leave them be. You gotta let them run and jump into the leaves.
Walks
During fall the weather starts to cool down and the bugs tend to go away. This makes a perfect time to just go for a nice walk. You don't have to stay contained to your backyard, if you have a nice sidewalk to traverse down or a nearby park you can walk in.
We love using our double stroller. I load the kids up and take a walk down our dead-end street and back. Of course, they usually want to get out and walk themselves before we even get to the end of the road.
Swinging
My toddlers can swing in the backyard for hours. I don't know why but my kids have always loved to swing. At both houses we have lived at, I have built a swing set/playhouse for my kids to play on and it gets so much use.
Even if you don't have a traditional swing set if you have a tree with a low hanging branch you can hang up a toddler swing. I did this at the house we currently lived at until we could build a more traditional swing set.
Trampoline
If you have a trampoline this is a great way for your toddlers to get out extra energy. They can jump, and roll, and flip till they tire out. And you can get on with them and get some exercise yourself.
Warning, make sure your trampoline has all the safety precautions before jumping on them. Make sure it has a good safety net and the correct padding needed.
Soccer
Soccer is such a great sport for toddlers. It's easy enough they can play and it involves two things that they love. Kicking things and balls.
Another great thing about playing soccer with your toddler is you don't need a lot of space to play it. And it requires very little equipment. In fact, even if you don't have a soccer ball you can still play soccer. Really any ball will do that they can kick around.
Hide and Seek
My older boys always loved hide and seek. When their cousins come over it is almost an extreme sport. Before I know it someone will be hiding halfway up a tree.
But hide and seek doesn't just have to be for older kids. Toddlers can play hide and seek and have a blast. While playing you can teach them to count to ten and also help them learn critical thinking.
When you hide don't hide too good. Or they may get upset because you left them. And if you have an older child to play along have them team up with the toddler.
Look for bugs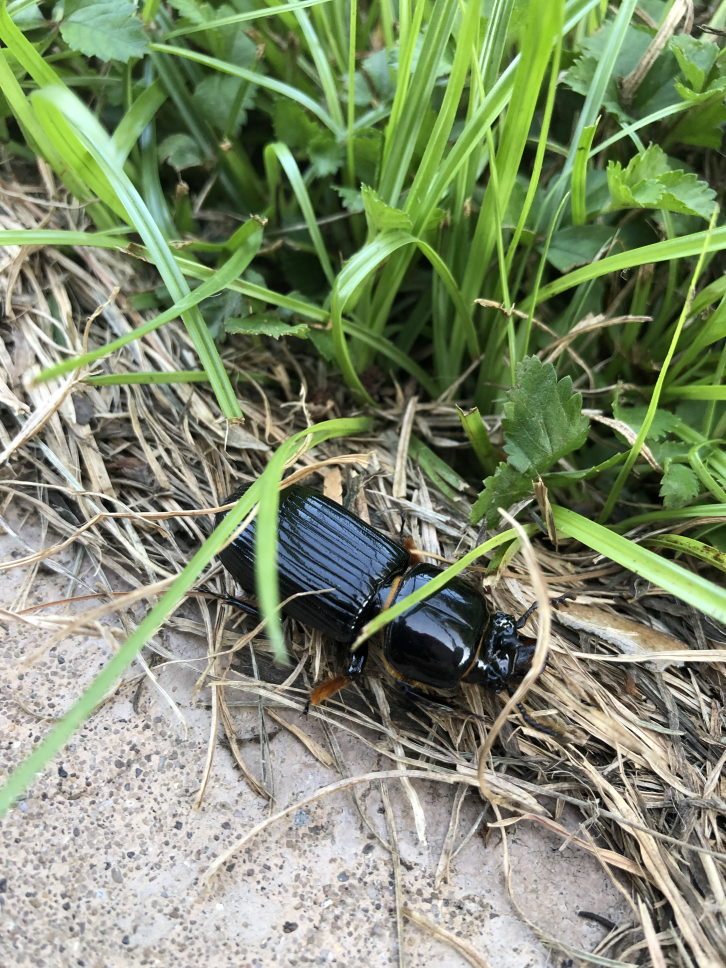 This may gross out some toddlers. But my kids love bugs. Often I have to get onto them for picking up bugs or trying to grab bugs that can cause them harm. They will chase a line of ants forever and they just love chasing butterflies.
Tag or Duck, Duck, Goose
Tag is another backyard activity that is usually reserved for older kids. Toddlers can play a great game of tag also. Now they may just run around in circles when you are trying to tag them but they will still have a blast.
With our toddlers, we usually play duck, duck, goose to try and keep them in a contained area. They like the concept of duck, duck, goose, and most of the time they understand the rules. Now they don't always play correctly but it's a fantastic learning experience.
Ride on battery-operated vehicles
Battery-operated vehicles like Power Wheels or Peg Perego can be a great way to keep your kids busy in the backyard.
For toddlers make sure you have on the safety setting to keep the speed they can go to a minimal. Make sure you charge the batteries when done to avoid disappointment the next time they want to ride.
Build a backyard obstacle course
Kids love to climb on things and jump over things. It's amazing how much a small puddle of water or a crack in the pavement can keep my kids entertained. They will jump over (and in) for quite a while.
You can use this energy and enthusiasm to build a backyard obstacle course. Make it out of items they have to jump over or walk around or even walk under. If you have some pool noodles sitting around they make great toys to use in your obstacle course.
Really any item that is safe to be around can be set up and you can guide them through the obstacle course. Start by going first and showing them how to navigate the course. Then let them try. Don't worry if they move things around. That is part of the fun is to let them be involved.
Red Light Green Light
Red light green light is a good game to play with your toddlers to teach them about following directions. They get to learn when to start and stop based on listening to your directions. It's also a great energy burner because most of the time they will just run without stopping.
Bubbles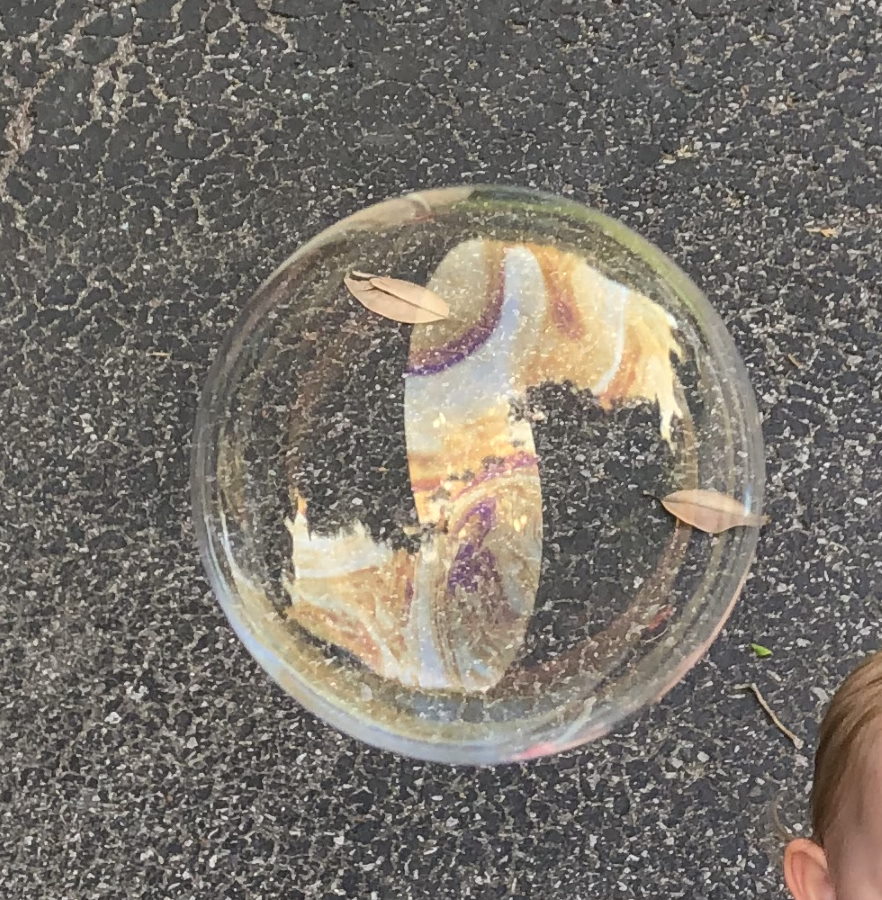 Toddlers love bubbles. But toddlers are not very good at playing with bubbles. The lifecycle of a container of bubbles with my toddlers is about 5 minutes or less. They start to play and then the bubbles are spilled everywhere.
Try giving them a smaller container that you can refill from a larger container. That way you won't have to hear the wailing of them spilling all of their bubbles.
You can also invest in some bubble machines and just let those go and have your toddlers chasing bubbles in the backyard.
Draw with outdoor chalk
I love the idea of outdoor chalk. Your toddler gets to be creative and draw on anything. Then the rain will just wash it right off. I let them draw on walls, chairs, trees, sidewalks, patios. It's one of the few times they get to be hands-on and not have to be told to not touch that or don't write on that.
One of my toddler's favorite things to do is draw animals (usually I do the drawing) and then we pretend they are real. Their favorite is to draw a shark and then we run away (thank you baby shark).
Collect pine cones or nuts
If you are crafty you may have a need for pine cones or leaves for craft projects. Why not have your toddler collect them for you? Give them a bucket and show them what you want them to pick up and have them collect pine cones.
Or if you have a pecan tree or other edible nut you can have them collect the nuts when they start to fall off the trees during autumn. We have several pecan trees in our yard so they are always finding pecans to pick up. Usually, we have to fight off the squirrels to get the pecans.
Jump Rope
Jumping rope is a great motor-building skill for kids. You can start by swinging the rope slowly for them while they try to jump. And then as they progress you can teach them how to jump rope themselves. Just be sure not to leave them unattended with ropes as it could be a choking hazard.
Play frisbee
Frisbee normally works better with older kids who can correctly toss it back and forth. But involving your toddlers is just pure joy. They love chasing after the frisbee and trying to throw it back. Mine usually just end up throwing it like a ball but they still have just as much fun as the older kids.
HopScotch
If you have a concrete patio or walkway in your backyard you can use it to play hopscotch. With toddlers, you can keep it real simple to reinforce learning their numbers or you can use letters. You can also use a bean bag or a stick so they are not tempted to throw a rock and lose it.
Pumpkin decorating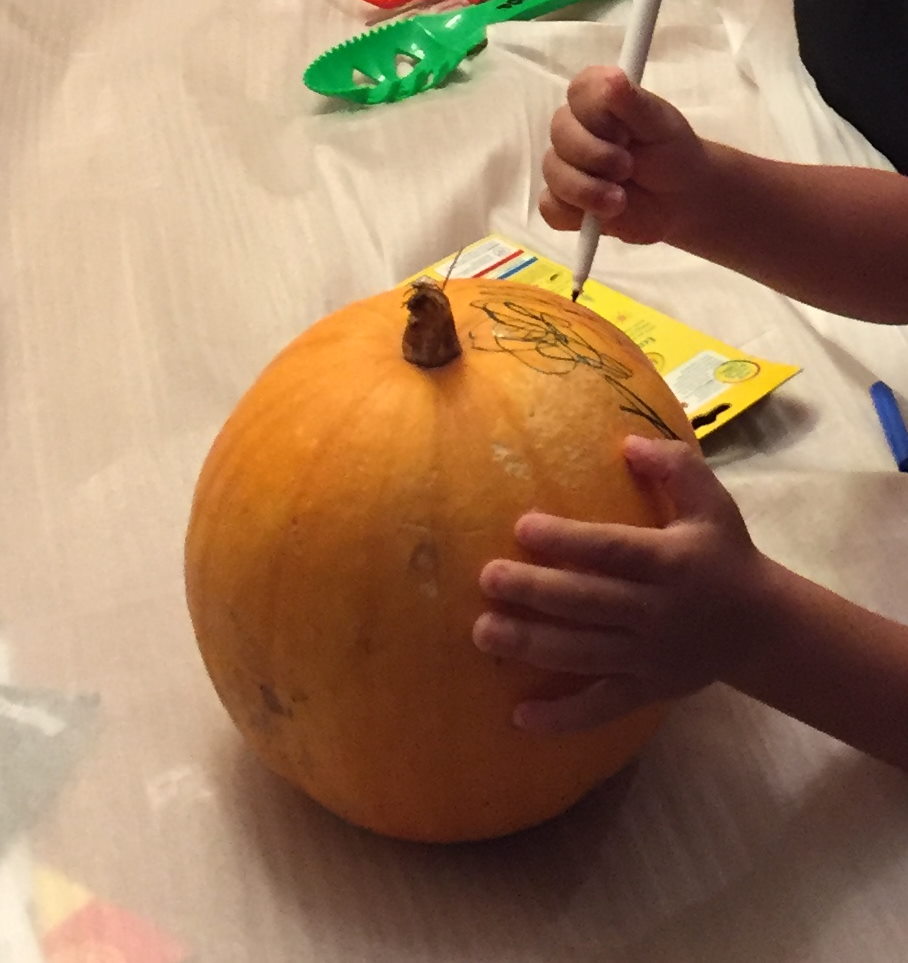 It wouldn't be fall without pumpkins. But instead of making that mess inside why not take the fun to your backyard and let your toddlers make the mess outside. I typically just give my toddlers some washable paint or markers to let them decorate their pumpkins.
If you want them to help with carving pumpkins you might let them put on some gloves and have them help dig seeds out of the pumpkins after you have carved it up. Or maybe they can add some of their own flair with some washable markers.
Have a parade
Having a backyard parade is a creative activity that your toddlers can not only be in but help plan. You can tie strings to toy trucks or wagons and let the kids pull them along. 
You can also get some stuffed animals or toys and put them on the wagon and have the kids ride along while you pull them along. You may set up some parade watchers along the way so they can wave as they go around the backyard.
Play with the dog
If you have dogs the kids will love to take them into the backyard and play with them. It gives your toddlers an opportunity to throw balls or other toys and then the dogs can go retrieve them.
You can also let the toddlers give the dog a bath outside. If you have a tub big enough and a hose available. This way when they are outside you don't have to worry about a big mess to clean up.
Setup a tent and do a pretend campout
Camping out with toddlers is not always the most enjoyable experience. They get scared of the dark and don't want to sleep, or they get too close to the fire so you are in a constant state of anxiety. But during the cool weather of fall, you can set up the tent and have a little pretend campout.
Maybe you can make a fake fire and start to get your toddlers used to the idea of camping out. Perhaps even try to sleep in the backyard but if they get scared you are right by the house and can go inside.
---
Autumn brings pumpkin spices, Halloween decorations, and falling leaves. It also usually ushers in cooler weather and fewer bugs so you can get more outside time. Have a plan for safe and fun backyard activities with your toddlers.
Make sure you incorporate your whole family so they all can enjoy the good weather and the new opportunities that fall presents. And with the help of everyone maybe you can even enjoy a nice backyard campfire and roast some marshmallows.
Do you have any fall backyard activities for toddlers that weren't included? Let us know in the comments or drop us a note on our Facebook page.