Current River Trail – Echo Bluff State Park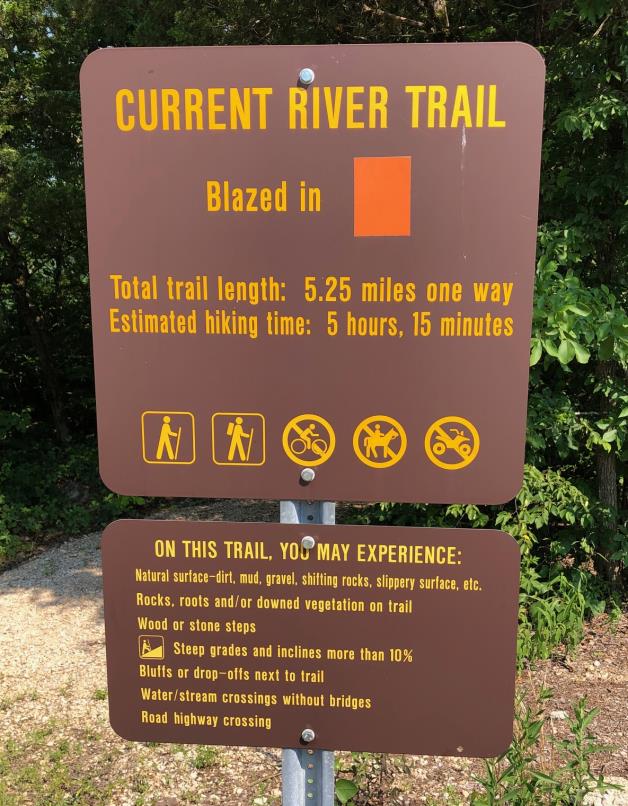 My son has been asking to go backpacking with me for over a year now. I had been hesitant because he is fairly young and I had fears that we would get on the trail and he would want to give up on the trip.
The opportunity to go backpacking finally came up. We had a weekend planned and we talked at length about potential trails to hike. My son really wanted to hike somewhere close to the Current River so he could fish there and swim.
I finally found the Current River Trail at Echo Bluff State Park. At this point, I started researching heavily and sending communications to try and find out more info about the trail and making plans for our trip.
Current River Trail at Echo Bluff State Park Details
The Current River Trail at Echo Bluff State Park is an out and back trail that is part of the Ozark Trail. The trailhead is located in the southern portion of Echo Bluff State Park and has enough parking for maybe 7 cars including a handicap spot.
The trail runs from Echo Bluff State Park, through the park, and continues until you get to Current River State Park. The total length of the trail round trip is marked at 11.2 miles (I found this to be more accurate than the 5.25 miles one way on the trailhead).
Primitive camping is allowed 100 feet from the trail as long as you are not in developed areas of the state parks. Current River State Park does not allow any camping. And Echo Bluff State Park has designated campsites that can be reserved.
The trail has several road crossings and at one point you hike over a bridge and along a sidewalk. At about the halfway point you have to cross Highway 19 which is a very busy and fast road. Please use caution when crossing this highway.
The trail conditions range from gravel path to grassy/dirt path, to rocks. In some portions, there are a lot of trip rocks. These are rocks embedded in the ground and stick up just enough to trip you. At one point my son got caught by one of these rocks and took a tumble and skinned his knee up to the point it was bleeding.
There are some significant elevation changes on the trail. The first portion is downhill until you get to the pedestrian bridge. Then you go uphill all the way to the highway 19 crossing. Then it is up and down until you get closer to Current River State Park. When you get close to the park it is a steep downhill descent.
There is one water crossing over a small creek that was very minor because it had been dry. I imagine this crossing would be a little worse if there had been significant rain. And there are a few places you are stepping up and down rock steps. Sometimes those rocks were slick and/or muddy.
There is very little cell phone coverage with AT&T. Hit one bar when on the really high ridges. But other than that don't count on good coverage.
Our experience on the Current River Trail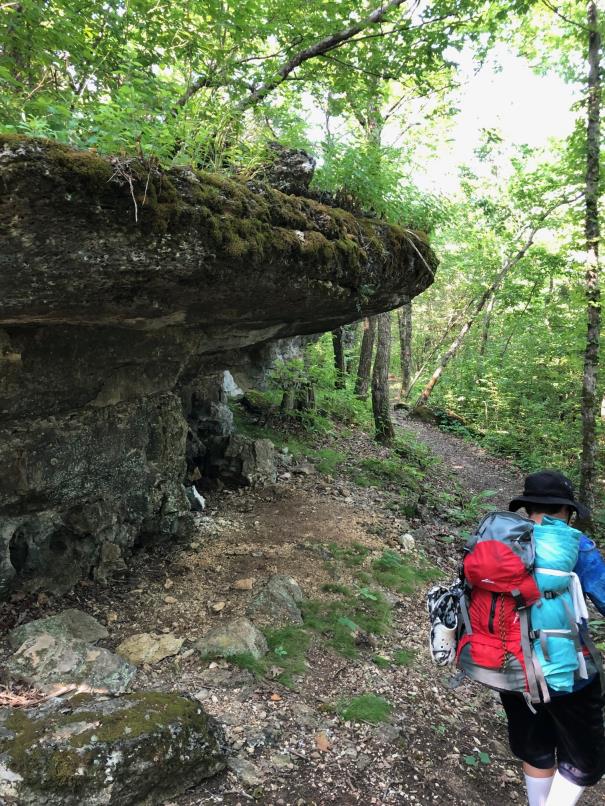 We got up early and drove over 3 hours to try and get to the trailhead before it got too hot. The temperature was going to get in the low 90s so the earlier we could get started the less heat we would have to battle.
We arrived at the trailhead just before 10 am. The administrator over the park had asked that I either leave a note that detailed our plans or check-in at the office. I just wrote a note that detailed where we were going, how many were in our group, and when we would return. I also left some emergency contact numbers.
We finished attaching the last few things to our packs and loaded them up on our shoulders. The bugs were out in full force that morning. We applied some bug spray, took a few pictures, and headed down the trail.
The first section of the trail winds downhill to the bridge right by the Timbuktu campground. During this section, we saw a couple of deer. I also almost stepped on a few snakes. A small ring-necked snake looked just like a stick. I almost stepped right over it and then I noticed the ring on its neck. We quickly gave it a poke with our walking stick and got it to move along. We also had to encourage a garter snake to move off the path.
Before we knew it we had made it to the road and crossed over the bridge. This bridge runs over the creek and has a nice area for pedestrians to walk across safely and out of traffic. We heard lots of kids playing in the creek below. From here we passed by the Timbuktu campground and crossed the road back into the woods.
We stopped about every 30 minutes or so and took a water break. The high heat and humidity and going uphill encouraged us to take it as easy as possible. We also stopped about 2 hours into the trip to eat some lunch. For lunch, we just ate some sandwiches and some granola bars.
Before we ate lunch we encountered a few more deer and another snake. This time the snake was not so gracious to abandon the path. He needed some extra encouragement before he finally slithered into the woods.
As we neared the end of the trail we started to look for a good spot to camp for the night. The plan was to hike to Current River State Park, fish in the river, get some more water, eat, and then hike back to a spot and camp.
At this point, we had a little over a mile to go. But it seemed like it was straight uphill. We were tired and wore out and hot. The nice thing about this last section is you finally could get some nice views. The views were not much during this time of year because all the foliage blocks part of it, but I imagine in the winter and early spring/ late fall the views would be spectacular.
Once we reached the top of the hill the trail changed to a more gravel path and an almost straight downhill descent into Current River State Park.
Current River State Park
Current River State Park just puzzles me. I really don't understand the purpose of this park. The background of this park is the grounds used to be a corporate lodge retreat. A lot of the old buildings still exist on the grounds but you cannot go into any of the buildings.
There is a nice size pond in the middle of the park and some picnic tables and park grills scattered about. The only bathroom facility was a single porta-potty. And the biggest issue I have with this park is there was NO CLEAN WATER! At least none was accessible to those using the park.
We headed down to the river after changing into some swim gear and the river access wasn't even that good. The river was fairly low here so there was a nice gravel bar to set up on and it didn't take us long to get into the nice cold river.
We hung out in the river and fished for a little while. It was really difficult to fish because so many people were floating down the river in canoes and kayaks. 
After a while, I decided we needed some clean water. We had two options. I bought a filter straw but I wasn't sure how well that worked. My other option was to boil water. I got some water and started a fire in one of the park grills to boil some water.
Shortly after I started the fire a state park ranger showed up. I asked her if there was any drinkable water in the park that we might have missed and she confirmed there was none to be had. She also reminded us that we couldn't camp at the current location. I assured her we would be back on the trail.
My son had caught a couple of fish so we cooked up the fish and ate some supper. It was getting late so we cleaned up our gear and headed back to the trail. My son was a little upset because he knew that back on the trail meant going back up that big hill.
Our goal was to make it back to a little creek we had crossed. That way we could camp close to the water and refill our water that night and fill back up before we hit the trail in the morning. It was a rough hike at this point. We were hurting and tired and thirsty. But once we made it to the top of the hill and took a good rest it got a little easier.
It was starting to get dark enough we got out the headlamps and pushed forward. Finally, I heard the glorious sounds of frogs. That meant we were close to the creek. We quickly looked for a spot to pitch our tent. We found a spot and my son worked on cleaning out sticks while I ran down and got some more water.
At this point, we decided to just use the filter straw to drink the water. I was surprised at how well it worked. I think in future trips I will invest in two of these.
We got the tent up quickly and laid down for the night. My son slept well but I just happened to be right on a root or stick or rock so I didn't sleep much that night. As soon as daylight broke I was ready to pack back up and head back.
The return hike
We were both tired and beat. And I knew that the hike to the highway crossing was going to be uphill from the creek. We agreed that we would rest often and take several breaks as needed. The humidity was so high I actually had to change shirts midway on the hike back.
Once we made it to the highway the downhill trackback to the campground was a breeze. We still took several breaks but we made some really good time because it was mostly downhill. We crossed paths with a few more deer but we didn't see any snakes on the return path.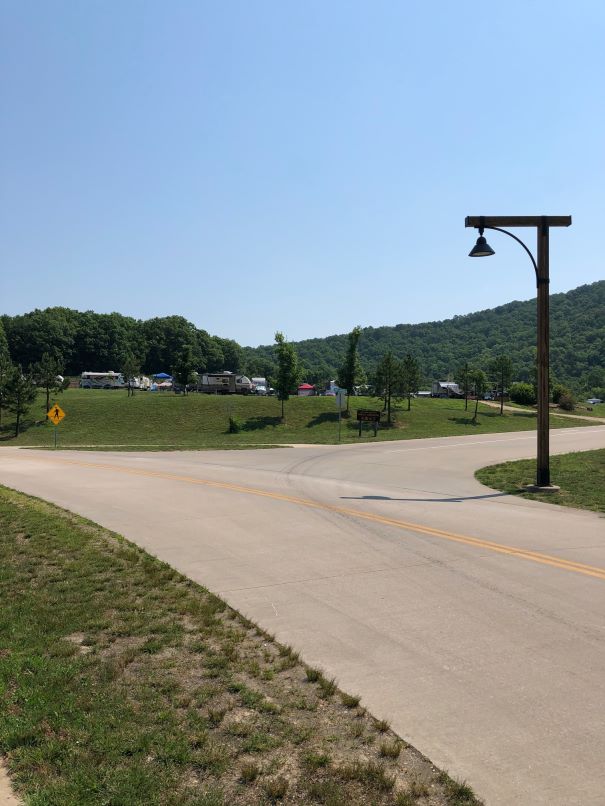 As we approached the campground I told my son that we could probably drop our packs at the campground and finish the hike to the car with just our water bottles. As we crossed the road in front of the camp we ran into the same ranger from the previous day and she confirmed that it would be okay to drop our packs.
We stopped in the campground and refilled our water and the campground host showed us where we could stash our packs until we got back. It was quite a relief to be able to hike without the extra weight.
We headed up the trail and since it was hot and uphill we still had to take several breaks. We decided on the last road crossing to stay on the road because it was going to be easier to traverse. I don't think I had ever been happier to see my car in the parking lot as I was this day.
Lessons learned on the Current River Trail trip
Since this was the first backpacking trip for my son and the first one in a long time for me I made a lot of mental notes of things we would do differently.
Pack lighter. Way lighter.
Brought too much food
Too many clothes
We brought heavy ponchos even though there was about a zero % chance of rain
Need a lighter tent. Or maybe just do a paracord and plastic tent or just hammocks
Lighter fishing poles
Check fishing gear a little closer
We just grabbed the lightest poles we had. But one was almost out of line and it ran out of line and couldn't be used. Luckily the one we had was good enough to catch a few fish.
Research better water management
I hadn't really thought this through. My original thought was we took more than enough water to last us until we camped that night and then we would get fresh drinking water at the state park. The backup plan was to boil water and the backup-backup plan was to use the filter straw I had purchased.
We should have refilled early in the trip at the campground but we were starting and we had not drunk that much water. But in the future will learn to refill water at every chance possible.
Boiling water sucked. The water tasted like a campfire and was hot and would not cool down. Filter straw saved us. It worked well and we would probably either go that route next time or figure out something else. We may try water purification tablets the next time we backpack.
Establish camp first then move on and hike back
I was worried about setting up camp and then hiking away from camp to the river. But we should have done this. We should have at least dropped the tent and the bedding and one of our packs and hiked the last mile with just one pack that had our food/water and whatever we needed at the river. I think if we did something like this again we would just maybe stash our equipment where someone would really have to be looking to find it. But take our most important items with us in one lighter pack.
Change the route up
My son said next time we should just hike in 2 miles, camp, and hike back. I agreed if we did this trail again we might do that. But we would have missed swimming and fishing in the current river. But I think it might have been a little more enjoyable.
Another option would be to start at Current River State Park. Hike to the Echo Bluff State Park Timbuktu campground and then hike back a little and camp (or reserve a campsite there). Then hike back in the morning.
This route shaves about a mile off and saves the uphill battle to the Echo Bluff State Park trailhead.And then when coming back your last section would be downhill to the Current River State Park and reward with getting into the river to cool off.
Clothing
I wanted to find some thin long pants but couldn't find any in my size. Next time I will have to order some as wearing shorts and socks only stopped so much of the ticks and thorns from getting me. And the ticks were crazy. I think every time we stopped we were picking ticks off of us.
Pack adjustment
I don't know if it is the type of pack we used or if we just didn't have them adjusted right but the packs always seemed to be on our shoulder. And I know most of the weight should be on your hips. It seems like we tried a dozen times to adjust but we never could get it right. Could just be the packs we used.
Food
Take less when hiking when it is warmer. I just didn't feel like eating. I would have rather had more water or less weight and we came home with half of the food that we took. But being the first time my son backpacked I didn't want food to be an issue.
Self-care
I should have been more adamant with my son about preparing for this trip. I told him several times to either go for a walk with his pack on or get on the treadmill. He shook it off and said it wasn't going to be that hard.
Also, I should have personally stretched before and after each section on both days. I was very sore. Should have brought ibuprofen for us to take. We didn't have any pain reliever in our first aid kit but I should have brought some. That would have helped a lot with pain on day two.
Things that went well on the Current River Trail trip
My boots did well and my son's shoes did well. We couldn't find him boots he liked so I got him some trail runners that he thought were comfortable. I think I would rather have some more ankle support so I will keep looking for improvement there.
Packs themselves held together. I think we had too much weight so that worried me. But they had no rips or zipper breaks. I probably would look for another pack with more exterior pockets. I felt I was digging for small items too often.
Alltrails app was a good addition. I paid for the pro so I could have offline maps since this was in a big dead zone. The miles tracked was a little iffy but I think I was not pausing as I should have been on stops. So it was counting any movement as miles traveled. It did notify me when we went off route and took the road so it worked well on keeping us on the trail and letting us know where we were at.
---
Overall this trip was very tiresome. The days after the trip I felt like I hadn't done leg day in 20 years and I tried to do all 20 years of leg days missed in one weekend. I literally could barely walk the day after we got back.
There were a few times my son wanted to quit. He was tired, upset, hot, and thirsty. But he kept pushing on and made it. I was extremely proud of him. And on the way home he said he had a really fun time and enjoyed it. Although he was in no hurry to rush out and do another backpacking trip that long.
Have you hiked the Current River Trail at Echo Bluff State Park? If so drop us a comment and let us know how your experience turned out or let us know on our Facebook page.