Hematite Lake Trail at Land Between the Lakes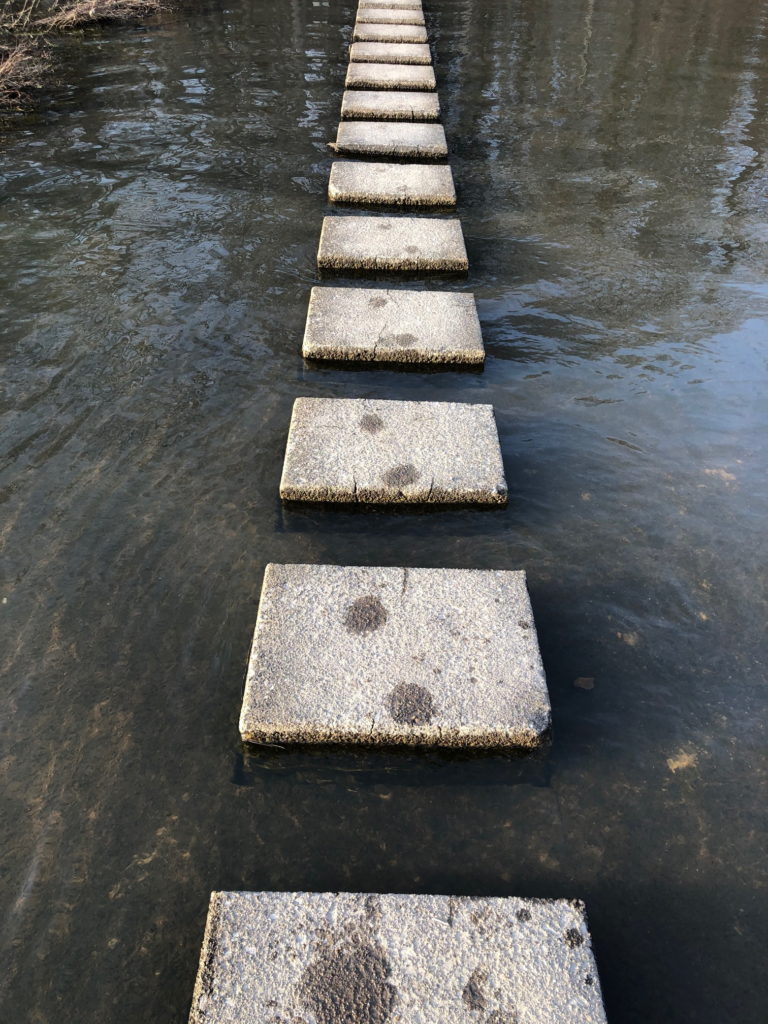 Living close to the Land Between the Lakes we like to head out and hike the trails and take in some fishing at Kentucky Lake. I had heard that after several years in the works that they finished the rehab on the trail around Hematite Lake. My youngest son and I went out and decide to give it a try.
When we arrived you could tell it is already becoming a popular site for hikers and visitors. The parking lot was full and people coming and going. The trail is an easy hike and is a short distance of 2.25 miles. There are a few benches to sit and rest but don't count on finding a lot of resting spots.
The weather that day was good for mid-February so a lot of people were out trying to take advantage of the weather.
I would suggest that if you go some things to note. Take lots of water especially if going during the summer. There really isn't any place to get a drink. And the bathrooms are not always the cleanest so you might want to make sure everyone takes care of that before you head out to the lake.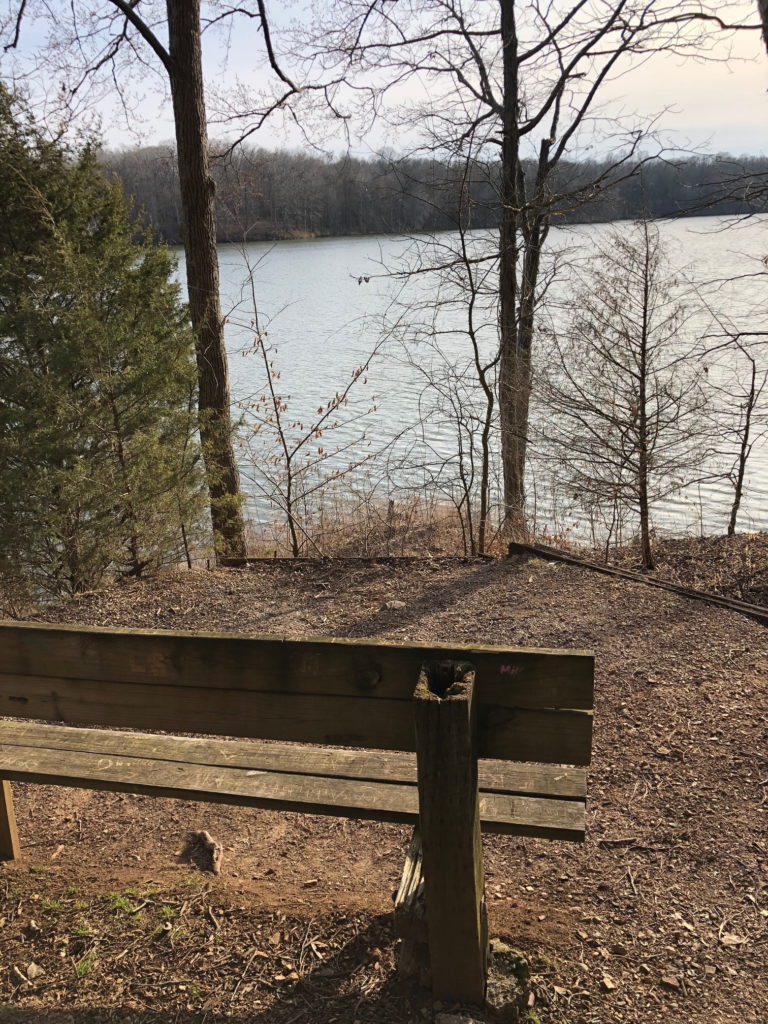 My son and I headed straight ahead and found some spots that would be good to launch a kayak from if you had some. If we would have had time we probably would have fished for a little bit but that day we were trying to get our hike in and back to the house before dark.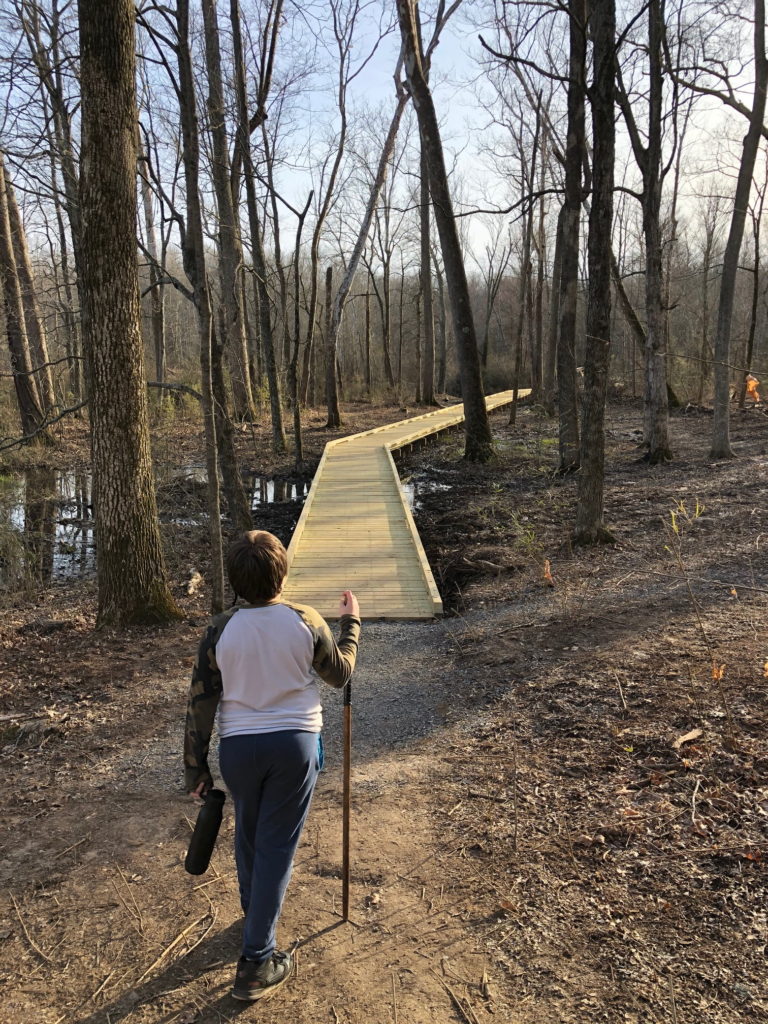 The trail has a few moderate inclines but for the most part it is flat terrain. The path is well done and easy to traverse. The redone boardwalks on the back side of the lake look beautiful and provide some outstanding picture opportunities. We didn't see a lot of wildlife but since the trees were bare there was lots of great views of Hematite Lake.
There had been a lot of rain in the area over the past month so I was expecting the trail to have some muddy spots but for the most part, the trail was dry. There are a few parts that look like they could use a small bridge to gap the water runoffs. Some other trail goers had thrown down rocks or large sticks to get across these areas.
You could also see some big trees uprooted and leftover cut-up trees that are part of the rehab of the trail. When the trees are knocked over like that you can appreciate the size of some of these well-matured trees and tell how hard the wind must have blown to knock these trees over.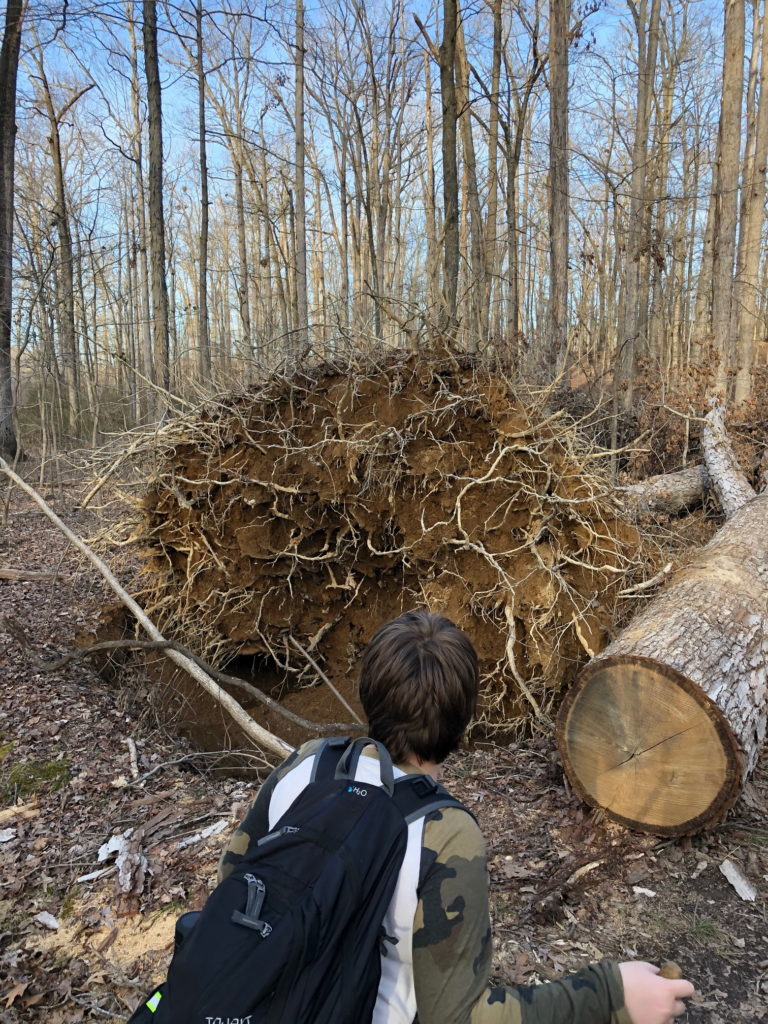 It took us about an hour and a half to hike the trail and we stopped a few times to take water breaks and enjoy the lake views and take pictures. This is a great area to enjoy a picnic with the family and take a hike and maybe do some fishing. We have fished in the creek that runs off of the lake and fished the lake itself. Caught quite a few perch in the creek.
The spillway is a really cool feature of this area. The trail goes over some stepping stones and can make it look like you are walking on water. Just be careful if you have little ones as they may decide to get wet if you are not careful with them.
There isn't any place to camp right at the lake. There are some picnic spots where you can park and maybe have a light lunch before or after you hike the trail. But if you are looking to camp there are some nearby sites in Land Between the Lakes.
Hematite Lake is just down the road from the Nature Station where you can view some animal exhibits and find out more about the Land Between the Lakes area. It is 12.7 miles / 19 minutes north of the Visitor Center on Energy Lake Road (FS Rd. #134).

GPS  N 36 53.825″ / W 88 2.567″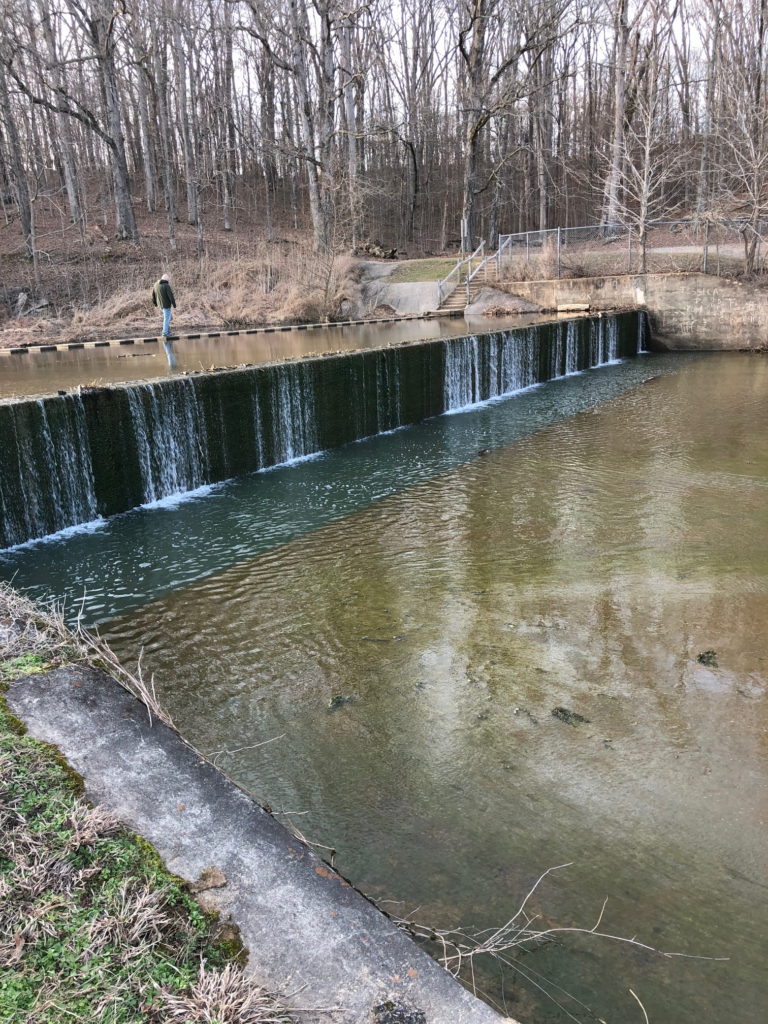 I love going on hikes like this with my son and get some just father son time. Being outdoors and getting in the fresh air and exercise really makes us feel more energized. I hope we get some more opportunities to hike the Hematite Lake Trail this summer when we can do some fishing and maybe take some kayaks out on the lake. I hope they keep up the improvements as this is a great area and an asset to the Land Between the Lakes recreation spots.
Have you been to Hematite Lake trail? Let us know in the comments or on our Facebook page.
Updated 3/26/2021