Warner Park Pool at Chattanooga Tennessee
Recently I took the family to Chattanooga Tennesee for a quick little micro vacation. While we were visiting the Chattanooga Zoo my kids noticed a pool right next to the zoo. It was a really hot June day so it didn't surprise me that they would notice a pool and want to go.
We didn't have our swim gear with us that morning so I told them we would try to come back to the pool before the end of our trip. The next day it was late in the afternoon and my youngest son really wanted to check out the pool.
I started researching online but the information I was finding was kind of lacking. Google stated it was open 11 – 5. But I had found some Google listings to be highly inaccurate this trip because of staffing shortages. I started digging further and found a site that stated the pool was open until 5 PM but the splash pad was open until 8 PM (this was wrong).
We headed over right at 4 PM from the hotel hoping to get a little swim time in. By the time we got to the front gate, it was 4:15 and we noticed the admission booth was closed. There was a small sign that stated their hours.
Monday – Friday 11 am to 5 pm EST
Saturday – Sunday 12:30 pm to 5 pm EST
There was also a sign that they stopped allowing entry an hour before they closed. The kids were pretty bummed out but we took them back to the hotel and let them swim in the hotel pool before we headed to supper.
The next day was our scheduled time to go home. The kids were really wanting to go to this pool. So we packed up the car and headed over to the pool.
There are two places to park to access the pool. You can access the parking lot by turning on National Ave and following the road past the tennis courts and around the ballpark. Or you can park in front of the Chattanooga Zoo and walk around the playgrounds to get access.
We arrived just before 11 AM EST and we could see the lifeguards getting ready for the day. Right at 11 AM, they opened the admission gate and we were able to pay. The cost was $3 per person and under 2 get in for free. This was by far the best value of any activity we did in Chattanooga.
Some things to note about payment. They do accept Visa and Mastercard. And they have a sign that they don't take any bills larger than $20. Keep that in mind. 
Once inside you make your way through a small hallway and out to the pool. They have a locker room for both men and women and there isn't much for privacy on the men's side. But for most public pools I find this to be the same.
Warner Park Pool Main Pools
The pool area is separated into 3 distinct pool areas. There are two kiddie pools, one that starts at 1 foot and goes to 2 feet. A second one starts at 2 feet and goes to 3 feet. In the deeper kiddie pool, they have a few basketball goals and some balls for the kids to play with.
The last area is the larger pool area. This area starts at 4 feet and goes to the deep end that I think I saw ended at 9 feet. In this area, you had a large open area, some swim lanes, and then the deep end that had some inflatables.
The inflatables were set up almost like a wipeout obstacle course. The kids were able to climb, jump, and navigate this course across the pool and then back to the start. If they fell off and into the water, they could just try to climb back up on the obstacle and start again.
Before they were able to attempt the course they had to complete a swim test. Although I think if they didn't pass the swim test they would have been required to wear a life jacket while on the course.
Warner Park Pool Splash Pad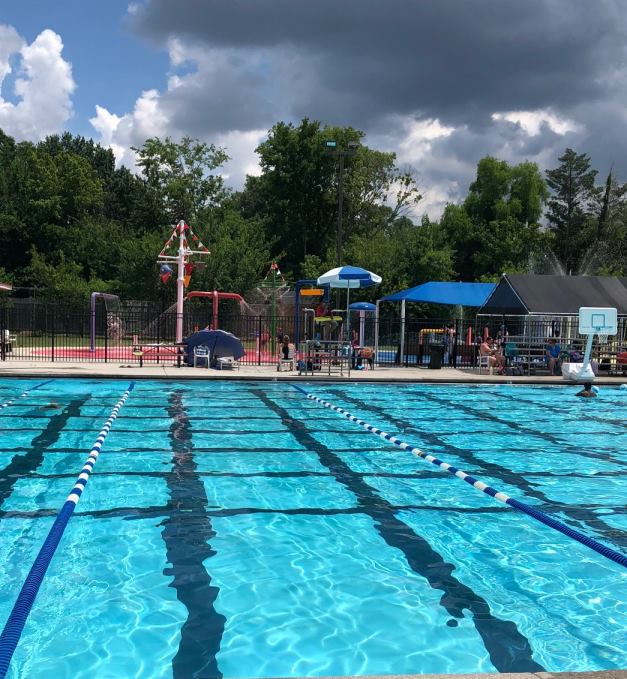 Right next to the 3 main pools there was another entrance to the splash pad area. The splash pad was the main attraction for my two little ones. If you have kids under 4 who can't swim well this might be the best option for your family.
In the splash pad area, they have several water jets shooting out of the ground. They have areas where water can dump on the kid's head. And they even have a small slide that is easy for the little ones to climb on.
There is also plenty of shade and benches for parents to sit on if they don't want to join in on the action. But be warned that the kids will probably end up getting you wet if you sit in this area.
---
Overall we spent almost 2 hours here. For the amount of enjoyment the kids got the Warner Park Pool was by far the best value in Chattanooga for keeping our kids entertained. The older kids and the youngest all had plenty of options and had a blast.
I would also note that they got pretty busy by the afternoon. And they were counting people leaving, so I would guess they have a limit of patrons they can allow in. Keep this in mind if it is a busy day that you might not be able to get in if the pool is busy. Also, keep in mind their hours could shift at any time so you may want to give them a call to confirm their hours before driving to the pool.
The really nice thing about the Warner Park Pool location was it is right next to the zoo. You could start at the Chattanooga zoo when they open and then head over to the pool and cool off in the water. Could make for a really nice day trip for your family.
The Warner Park Pool is located at 1254 East Third Street in Chattanooga TN. Their phone number is 426-643-6608.
Have you ever visited the Warner Park Pool in Chattanooga TN? If so leave us a comment about your experience or let us know on our Facebook page.