Our Top 5 Vacation Spots
Every summer we go on a few vacations. We try to pick new places but the kids always want to return to some of their favorite vacation spots. Our family looks for the following qualities in a vacation spot:
Something unique about the location
A zoo or aquarium is usually a requirement
Outdoor activities
Indoor activities to beat the heat of summer
Theme park with roller coasters is a plus
Wisconsin Dells
Wisconsin Dells located in Wisconsin is located not too far from Chicago and has been dubbed the indoor water park capital of the world. And let's just say there is no shortage of indoor water park resorts in this town. Most likely because of its northern location and cooler months the indoor water parks are a bit of a necessity.

But our family doesn't go for the indoor water parks alone. The Wisconsin Dells has so much to offer that our family enjoys.
Mount Olympus Water and Theme Park
Mount Olympus has not only an indoor water park but they offer an outdoor water park, outdoor theme park, and indoor theme park. The parks are not huge in their own right but when you put them all together it is a good size park. They have some great roller coasters and one of our favorite attractions is their 9 foot wave pool.
The Boat Tours Through the Dells
The Wisconsin Dells is situated near Lake Delton and there are several boat tours you can take to enjoy the scenic beauty. They have a tour boat that will take you out to some awesome locations and see some beautiful rock formations. They have the "duck" tours which are tours done on old army ducks that start on land and you make a water entry and come back to dry land. And they have speed boat tours which take you racing around and do power slides in a huge speed boat.
All of the boat tours are kind of pricey but if you bundle the tickets you can get more for your money. And some of those tours are the only way to see some of the cool formations in the Dells.
Downtown Wisconsin Dells
When picking a vacation spot I love a good downtown area where you can get out and walk around and see some cool attractions and get some good food. Not big on shopping but if that floats your boat there is plenty of that also. The downtown area is in a great spot that is easy to get to and there are plenty of things to do. You have mini golf, laser tag, fudge, Ripley's believe or not, and so much more.
Timbavati Wildlife Park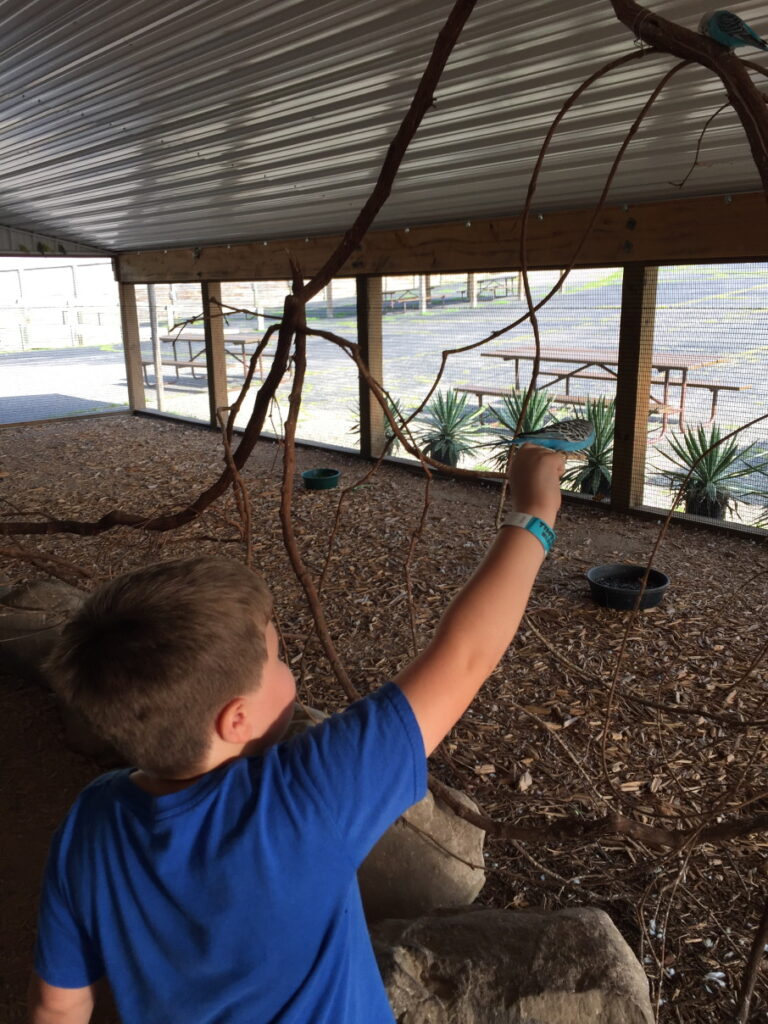 Timbavati Wildlife Park would be the zoo component for us. We discovered this nugget a few years ago as the hotel we stayed at offered a free admission. I would have paid full price as they do a wonderful job of getting you close to the animals.
House on the Rock
House on the Rock is not technically in the Wisconsin Dells. It is about an hour and a half away but when I tell you this place is unique I feel that is an understatement. I discovered House on the Rock many years ago on our first trip at the advice of my dad. And it was unbelievable. We went back a few years ago and it was like a whole new trip. They had completed sections and opened up even more museum space that made this an all day attraction.
House on the Rock is hard to describe but the premise is an architect fell in love with building a house on this rock. And the way he did it was very unique and when you walk in the house it feels like it could fall at any moment. And the gentlemen who built the house was an extraordinary collector of unique things. And that collection has continues to the tune of several large buildings crammed with these unique artifacts, inventions, and just stuff. I took so many pictures my camera ran out of space of all the crazy and cool stuff that you will find here.

The Wisconsin Dells offers so many other tourist attractions so you have to be careful and not fall into a tourist trap. On a whim there was an upside down White House attraction that was running a $5 special for admission. It had the absolute worst reviews ever so we had to check it out and see if it was really that bad. Guess what. It was that bad. It was actually comical how bad this place was. And if you ever need entertainment go read the reviews on Trip Advisor.
Gatlinburg / Pigeon Forge TN
Growing up in Missouri I occasionally heard people talk about going on vacation to Gatlinburg. I was told it was like Branson MO so why would I drive that far to Tennessee when Branson was just a few hours away. But now that I live closer we decided to make the trip and have been a couple of times and we still enjoy this vacation spot.
Smokey Mountains
Gatlinburg's greatest attraction to me is the Smokey Mountains and the views and outdoor beauty. Every time we go we have to drive up the mountain and get a view from Clingmans Dome. There is an observation tower on top of the tallest mountain and on a clear day you can see for 100 miles.
Dinner Shows
I have never really been big on dinner shows. But our last trip we got invited by a family member that works for one of the shows and I have to say it was a blast. The food was great, the service was unbelievable, and the show was funny and entertaining. The kids thought it was great and they had a blast.
Ripley's Aquarium
For the zoo/aquarium requirement Gatlinburg shows up big time. The Ripley's Aquarium is an almost all day stop. They have a little bit of everything and a tube where you walk under the tanks and have everything from sharks to turtles swimming above you. This is always a must stop for us when we visit Gatlinburg.
Dollywood
Two of my boys love roller coasters and amusement parks. And Dollywood has some great coasters. The park also has trades people doing things like blacksmithing and other primitive demonstrations and there are daily shows in the park to keep the whole family entertained.
Downtown
Downtown Gatlinburg is a good place to keep you busy. My only complaint is there is just too many people there. If you go during a busy season it is almost elbow to elbow people in the downtown area. But there are a lot of great attractions (including the aquarium) within walking distance. Parking is an absolute pain and driving around is even worse so make sure you plan accordingly.

I included Pigeon Forge because most of the time we go we end up staying in Pigeon Forge and eating there. A lot of the shows and best restaurants are located in Pigeon Forge and the traffic is a little less hectic than Gatlinburg. Both areas offer some great attractions but once again watch out for tourist traps. Make sure to read up on your reviews before you get sucked into one and come out feeling like you spent $100 for 30 minutes of nothing.

Chattanooga TN
Chattanooga TN was a spot I wanted to visit for many years. But the kids always vetoed my vote because it didn't seem like a "fun" spot to visit. Last year we finally went and my kids were asking if we could go back almost right away.
Tennessee Aquarium
Not only is the Tennessee Aquarium several stories tall but it is also split between two buildings. There is one building dedicated to fresh water fish and one building dedicated to saltwater fish. I think you could almost spend an entire day here but my kids were so tired we only stayed about 4 hours.
Rock City / Incline Railway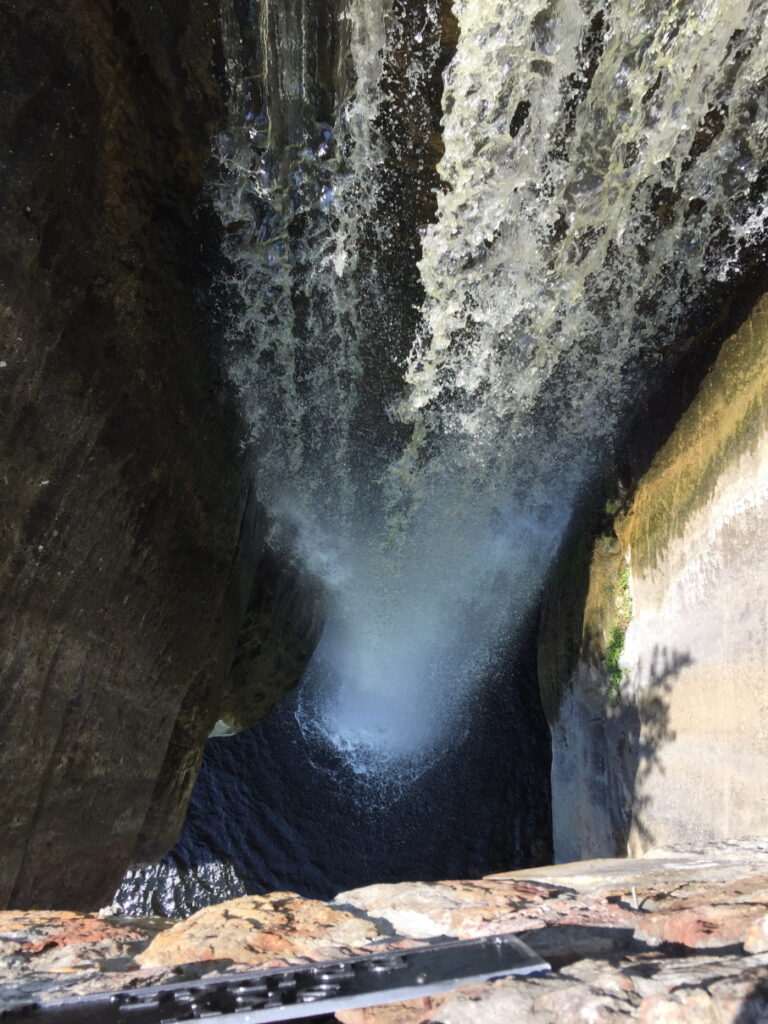 Rock City felt like a tourist trap. And it is sort of. But the beauty and interesting sites of this location make it a must see for me. They try to bundle this with the incline railway and Ruby Falls so if you desire to see all 3 locations then it is cheaper to bundle them together. I was told by my dad to skip Ruby Falls as we wouldn't be impressed so we just did this and the mountain rail way.

The incline railway is not for the faint of heart. It is a straight up ride on a rail car and feels like you are looking straight down a mountain with nothing to stop you. My wife does not like heights so she did not enjoy this at all. But the views were really cool. I don't think I would do it again as the value doesn't justify the cost but maybe a once in a lifetime ride.
Creative Discovery Museum
Our family loves what we call kids' museums. These are places where they use every day items to make unique attractions that teach kids but makes it fun. The Creative Discovery Museum is like a huge indoor playground for kids to explore their imagination and touch things without someone yelling at them and still learning something.
Walnut Street Bridge
This is a pedestrian bridge that goes across the Tennessee river. It starts in the downtown area so this is a great spot to grab something to eat or enjoy the nice weather. There were musicians and other performers around the bridge and it was nice to just walk around and enjoy the views.
Cloudland Canyon State Park
This is not in Chattanooga but just a short drive into Georgia south of Chattanooga. The park offers some spectacular views and some trails to some impressive water falls. But beware as one of the trails descends about 600 steps and when coming back up I thought I was going to die.
Fall Creek Falls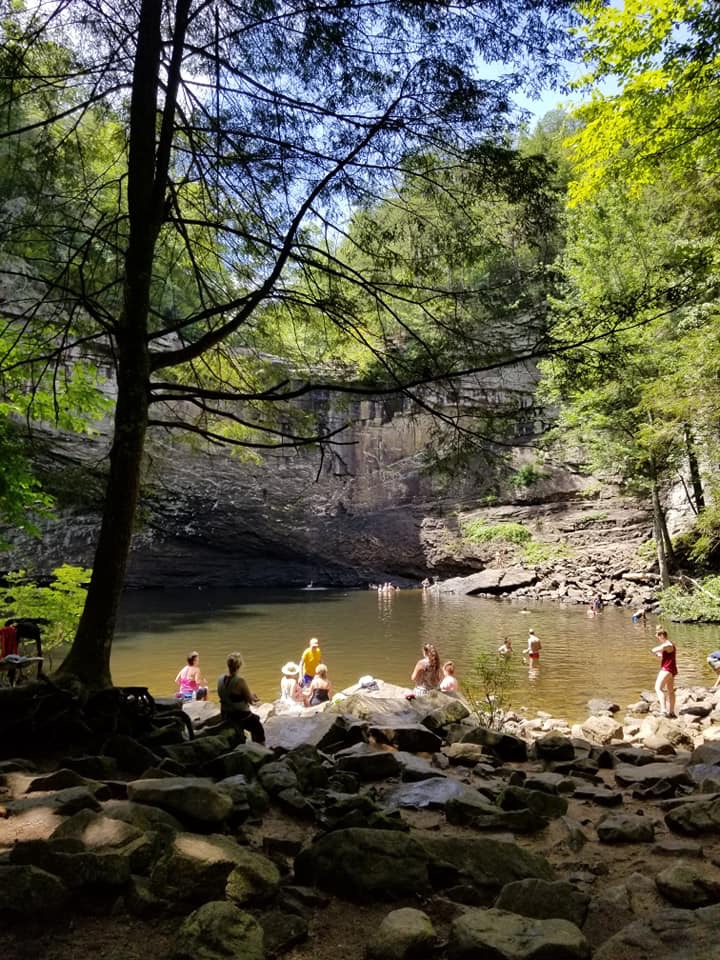 Another place not in Chattanooga but very cool to visit was Fall Creek Falls. We stopped here on our way down and let the boys swim underneath the falls. The trail is fairly short down but still a bit of a hike to get back up. But being able to swim under these falls is pretty cool.
Civil War Battlefields
There are a few here and we only visited one. My kids were not quite as interested in this as I was but for those that love the Civil War these are must-see locations.

There is so much more we didn't get to that we wanted to in Chattanooga so I see a return trip to this vacation spot in the very near future.

Branson MO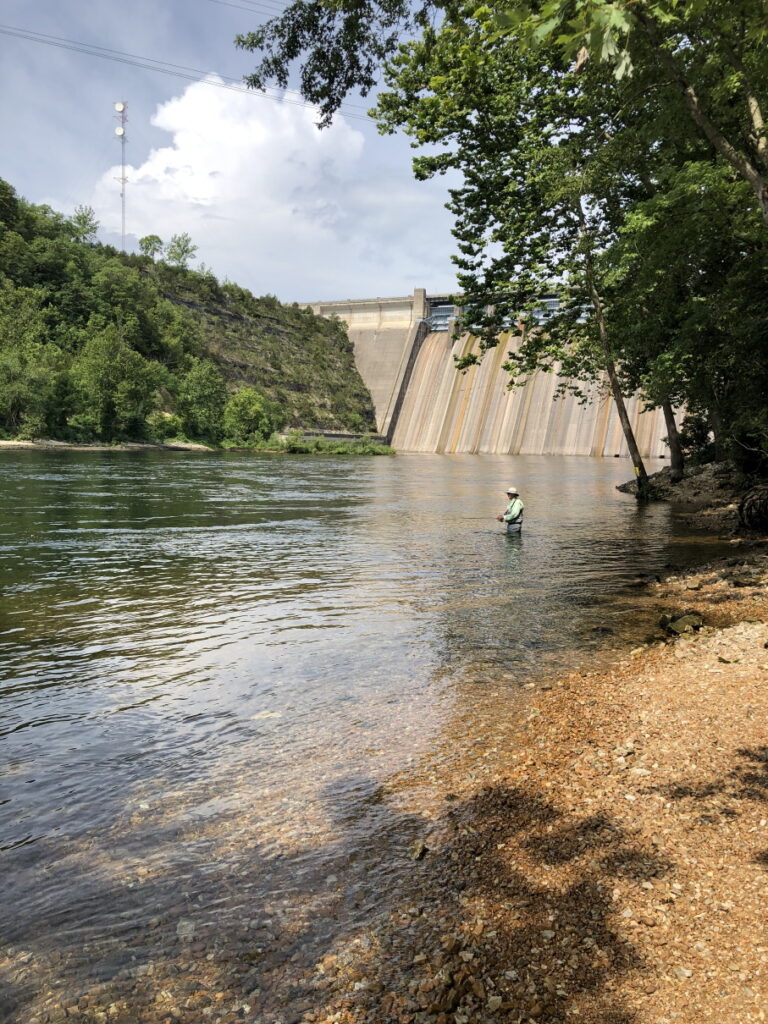 Branson MO is just a short drive from where I grew up. Recently we visited Branson MO for our family vacation and the kids had a blast. Branson offers a little bit of something for everyone. If you want to fish or enjoy a lake you can do that. If you want to do an amusement park they have one of the best. If you want to see shows there is no shortage there. They have almost everything you need packed in a small town.
Promised Land Zoo
This little zoo and drive-through safari was a pleasant surprise. I had seen the advertisement but never visited this zoo. They have a good variety of animals and for an additional charge you can actually hold and get up close to some animals.
Branson Landing
This was my least favorite part of Branson. It is packed with people and I am not a fan of that. But it gives the downtown vibe with all kinds of restaurants and shops. It is right along the river and there is a cool fountain that shoots out flames. And if you like to shop there are plenty of options.
Silver Dollar City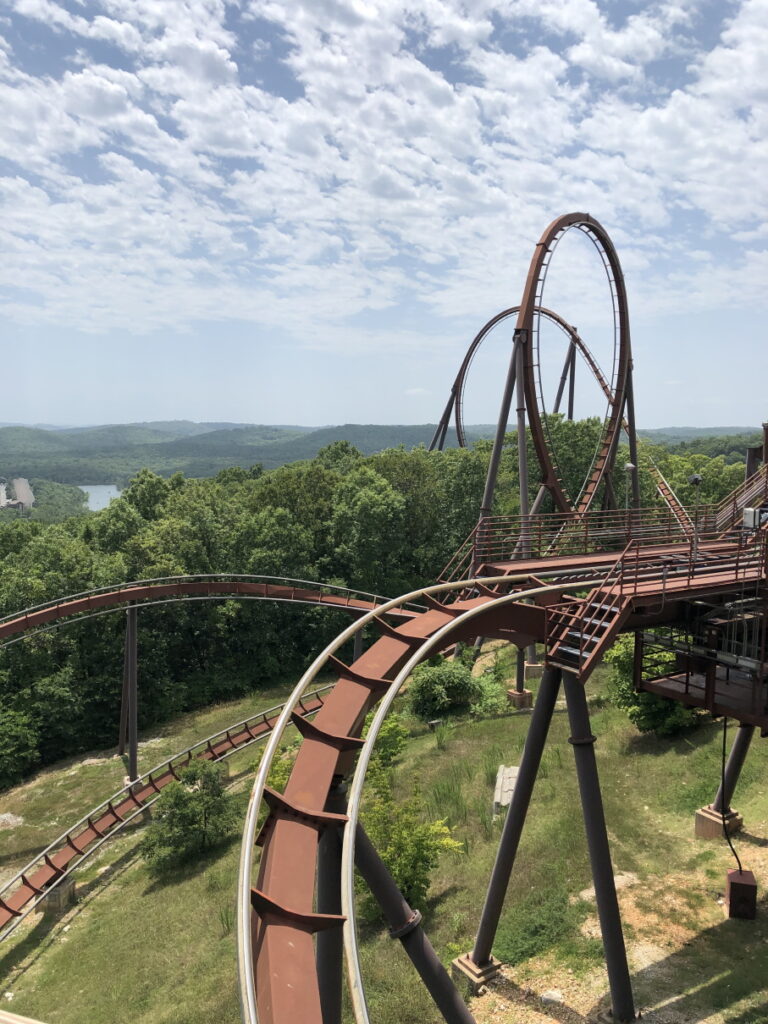 This was one of my favorite spots. They have some of the best roller coasters I have been on in a while and a good variety of rides. The staff was super friendly and courteous and the food was really good. They also have a variety of crafts and tradespeople set up doing demonstrations and shows for those that don't like the rides.
WonderWorks
It is an upside-down house on the outside. Now when I saw this I had flashbacks to our Wisconsin Dells trip. But this place got great reviews so we decided to give it a shot. We were not disappointed as this location offers all kinds of games and amusement-type rides included with the price of admission. You can take a virtual roller coaster ride, spin like an astronaut, play on a huge piano, and so much more.
Wonders of Wildlife Aquarium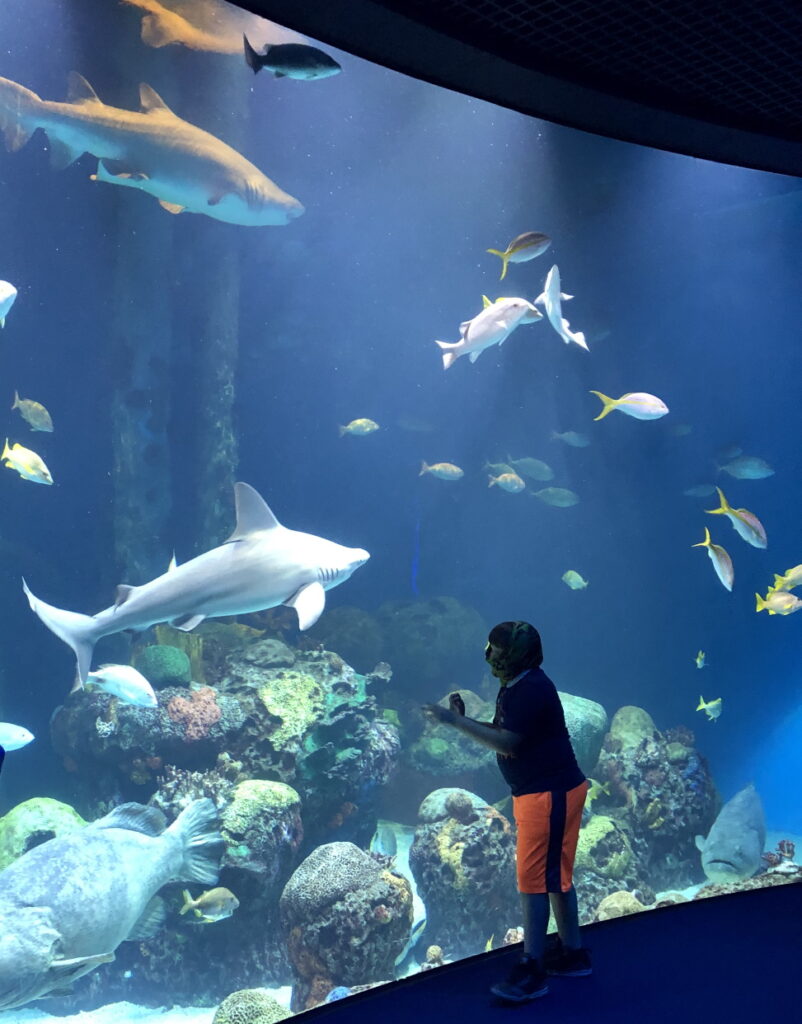 Now, this isn't in Branson but is about 45 minutes north in Springfield MO. It is right next to a huge Bass Pro Shop and this aquarium is pretty large. It took us about 2 hours to go through it but we were on a tight schedule. You could easily spend 4 hours taking in all the sights and looking at all the fishing museum items they have on display. Also, some of the attractions were closed due to Covid 19 so that shortened the trip a little.

Branson is the epitome of a tourist trap. In fact, a lot of the restaurants in and around the strip will cost up to 30% more and be extremely busy. So I suggest trying to find lesser-known locations and out-of-the-way locations to eat. We stopped at the Lambert's Cafe in Ozark MO so we could enjoy some thrown rolls but be wise where you eat. Make sure to read reviews to avoid any tourist traps on the main strip. We got suckered into one on a trip a long time ago and learned our lesson the hard way.

Mountain View AR
The above vacation spots are pretty well known. But Mountain View AR is one vacation spot that would slip through most people's radar. I love it when I meet people and get to tell them about this hidden gem. Of all the locations on this list this location doesn't check off a lot of the requirements for a family vacation. But because of the sheer beauty and family memories we have of this vacation spot it is almost a yearly trip for us.
Blanchard Spring Caverns
Favorite Vacation Spot – Blanchard Spring Caverns
My love for caves started at a young age when my parents took me to Blanchard Springs Caverns. This cave is one of the most beautiful caves in the entire United States. I have toured over 50 caves myself across the Midwest and can say without a doubt it is the best-looking one in the Midwest.
There are 2 main tours, one is what I call the show tour which shows off the best of the formations and is rather short, the second one is a longer tour with lots of steps that dives into the history of the cave and takes you by the natural opening. They also offer some wild cave tours so you can go do some spelunking with a tour guide.

In the park there is also a campground, the spring itself which is massive, Mirror Lake which is stocked with trout, a swimming area in the creek, a shelter rock cave, and so much more. For years it has been tradition for my brothers and our kids to go fishing at Mirror Lake and if you go at the right time you will catch your limit quickly.
Ozark Folk Center State Park
If you love bluegrass music and watching tradespeople do work then you can stop at the Ozark Folk Center State Park.  They do live demonstrations and seem like someone is always playing some music. And just outside the state park is a place called Loco Ropes. At Loco Ropes you can do rope courses and zip lining if you are looking for some more adventurous activities.
White River
The White River runs very close to Mountain View AR. This river is full of all kinds of fish but especially trout. You can get a guide and have a great time catching trout or other fish or you can rent your own boats and go out on your own. There are some great restaurants right on the river to grab a bite to eat.
Downtown
Almost every Friday and Saturday night (and some Sundays) if you go to the downtown area you will find large groups of musicians and/or dancers performing. This is a great spot to pull up a chair and just enjoy some bluegrass or gospel music. There are a few shops downtown to visit during daytime hours and a place to grab an ice cream cone.

There is also a small go-kart track, horseback riding, camping, and this year we even spotted a mini-golf course although it might have been just temporary. And when you stay at this vacation spot find a cabin with a view on VRBO or Airbnb. You can find some really great cabins or houses. We even found a cabin one year that had a cave on the property we could go into.
---
A lot of thought goes into picking a vacation spot for our family. We have to determine a budget, time length of our vacation, and things to do at the potential vacation spot. Most of these are within driving distance because we have a large family and flying just isn't economical.
Do you have a favorite vacation spot? If so leave a comment or let us know on our Facebook page.