Camping at Mammoth Cave National Park
Lately, our schedule hasn't allowed us to go do much camping. I love to go hiking and camping with my son and he was recently on fall break so I took a few days off so we could go do something. He asked if we could go camping and we decided to camp at Mammoth Cave National Park.
I did a little research and since it was a last-minute decision on where we were going I checked the reservation system for any open campsites. They didn't have much but they had several that were first come first served.
About Mammoth Cave National Park
Mammoth Cave National Park is located near Bowling Green KY in west-central KY. It is the longest known cave system in the world. Currently, they have found 420 miles of the cave and it seems every year they are adding to that total with new discoveries. They offer daily tours and have miles of hiking trails throughout the park. There is also a campground, lodge, and restaurant in the park.
Traveling to Mammoth Cave National Park Campground
Most of the roads leading to Mammoth Cave National Park from our house are back roads. There is an interstate that runs close to the park but we are on the opposite side of the park from that interstate.
We pulled up to the check-in station just afternoon. I asked the ranger about open sites and she said since we had a tent she had an open site in the tent camping section which was right next to the group site.
I was a little concerned about how close this campsite was to the road and the main entrance because I thought it might be a little noisy. But surprisingly the campsite was very quiet after it got dark. And there was a large group of people in the group campsite also.
The site was within walking distance of the camp store and it was very close to the bathrooms. There was some construction going on across from the bathrooms so during the day it was very loud but they promptly stopped working at 5 pm. Although they did start right back up at 7:30 am.
About Mammoth Cave National Park campground
Mammoth Cave National Park campground has over 100 sites. They have a mixture of tent only and RV sites and a large group site area. Check-in time is 12 noon (although I have seen conflicting information on this) and checkout time is 11 am.
There is no Wifi available in the campground but if you go to the Visitor next to the restaurant you can get free Wifi. Cell phone reception within the park is very limited for AT&T. I could rarely get a signal and at the campground, the cell phone signal was really bad.
There are two trails that run through the campground. Whites Cave Trail is a shorter hike that takes you from the campground to the Green River. Mammoth Cave Railroad Bike & Hike Trail also runs through the campground if your family likes to do bike riding.
The sites are very clean and well maintained. The tent sites had a nice large gravel area which consisted of a fire ring, concrete picnic table, lantern pole, and plenty of room for tents.
The picnic tables were polished concrete and looked to be in great shape. I liked the concrete picnic tables better than the wooden ones you typically see in campgrounds.
Mammoth Cave National Park campground camp store
We walked over to the camp store to get some firewood. I knew that we couldn't bring firewood into the park to burn because of bug infestation problems, so my thought was we could buy a bundle or two of firewood from the camp store.
I was shocked when the store attendant told me that I couldn't buy "real" firewood. You could buy a small bundle of tinder and some bio firewood.
My thoughts on bio firewood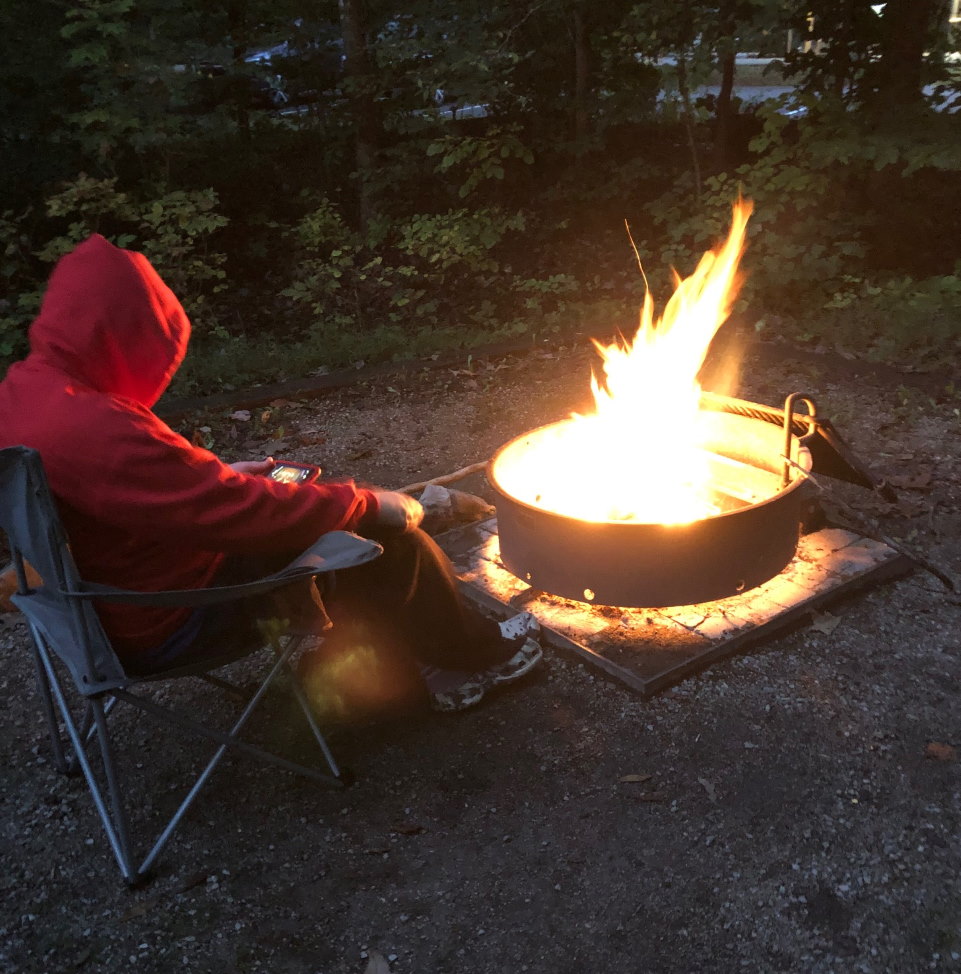 Bio firewood is particle board blocks without any additives. They are just sawdust that has been compressed back into a wooden block. They came in 6 blocks to a pack for $6.99. The price was reasonable but 6 blocks won't last long.
The bio firewood was horrible. Unless you have a ton of kindling it doesn't want to burn. I even tried soaking it in lighter fluid and it still wouldn't burn very well. Once I had a good fire going they would catch and burn. But to get a fire started was quite the pain.
I completely understand that they don't want to import wood into the park but they should have plenty of trees that fall down or have to be cut down that they could have normal bundles of wood and not have to import bio firewood.
You can also find firewood that has fallen and burn but everything was wet from recent rain so that wasn't an option for us.
Mammoth Cave National Park visitor center
My son and I headed over to the visitor center which was a short drive up the road. Masks were required in the building so we made sure to do our part and mask up.
We headed to the central information kiosk and ask for some maps of the hiking trails. They had one readily available for us to use. The rangers at this kiosk were very helpful. We didn't ask for help but I overheard a conversation they had with another couple and they were full of information.
The sign on the door said that the tours for the day were already sold out. We headed over to the tour windows to book a tour for the next day. But as we found out the tours for the next day were already almost sold out and the only ones available were in the afternoon and we needed to head back home before those times.
The lesson learned is to reserve online early if you are going to go on a tour. Since we couldn't do the tours at Mammoth Cave I booked a tour in nearby Bowling Green KY at the Lost River Cave.
They have a little area that provides some information about how the caves were formed and some history on how the cave was discovered. There are some interesting interactive exhibits for the kids. They also have a short movie that plays about the caves but it was having issues so we didn't watch the movie.
Some of the areas were closed off. I'm assuming it was closed due to Covid restrictions but there didn't seem to be much back there to see.
There are also multiple gift shops in the Mammoth Cave visitor center. If you try to avoid gift shops it will be hard to do since there is one by each entrance.
Mammoth Cave National Park trails
Mammoth Cave National Park Trails
River Styx and Dixon Cave
We headed out to the trails. We hit the River Styx Trail first as it took us by the historical entrance. It was a paved walkway until you get to the historical entrance.
Walked down a good number of stairs into the historical entrance and looked around. You can go back into the cave until you hit a locked door. This entrance is used for self-guided tours.
Mammoth Cave National Park historical cave entrance
Next, we headed up the hill to see Dixon Cave. The trail heading up the hill is pretty rocky and hard on the ankles. There is some interesting history on Dixon Cave and the hike is short enough it is worth making the quick trip.
We headed back down to the River Styx Trail and walked it until we stopped at the Green River. We took a quick look at the Green River and read some placards about how the riverboats used to dock there.
After looking at the Green River we headed over to the River Styx sinkhole. This is a beautiful sinkhole with some bright greens coming out. The water rushing over the rocks is a very serene area and there is a nice place to sit down and enjoy the view and listen to the rushing water.
We decided to head up the hill taking a different route and up the Heritage trail.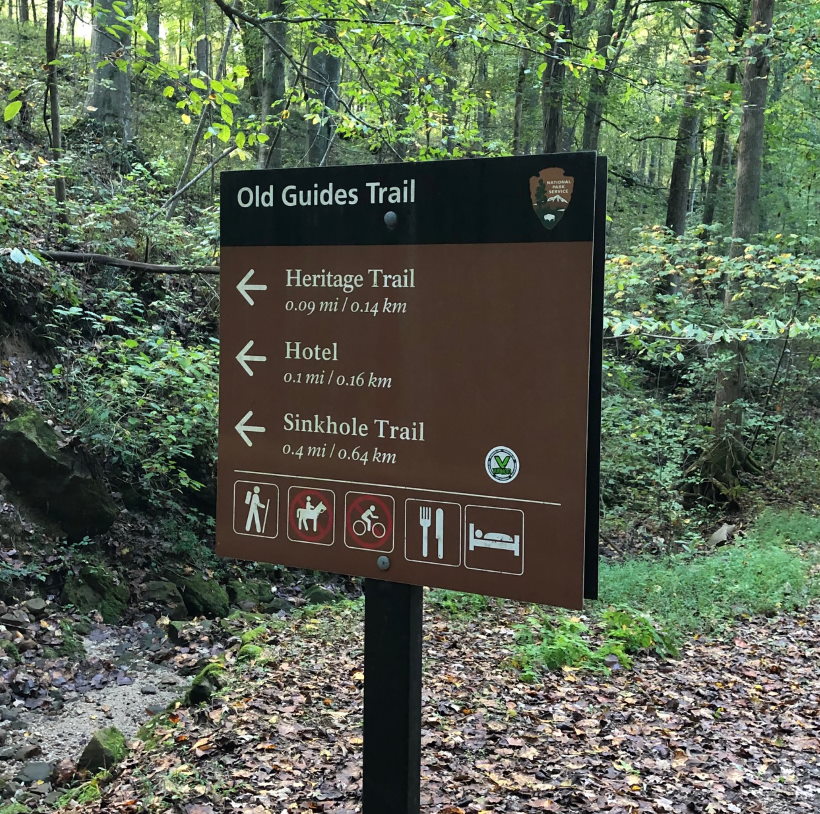 Heritage trail was a nice little switchback trail which made the incline back up a little easier. When you get about halfway up the trail you get to the sunset viewing area. Such a wonderful view here and we almost caught it right at sunset. The trail at this point becomes handicap accessible and is a loop of concrete that headed back to the lodge/restaurant area.
There is a historical cemetery along this trail with a few burial sites. Some interesting history to read here about how the cave was used and some of those that were buried in the plots.
We headed back to the visitor center but at this point, it was closed so we just headed back to camp. I wanted to do a few more trails but with the limited amount of daylight, I wanted to start cooking supper before it got dark.
The next day we packed up after breakfast and headed to Bowling Green KY. We made a quick stop at the Sand Cave trail. This is a short wooden boardwalk back to the entrance of the Sand Cave.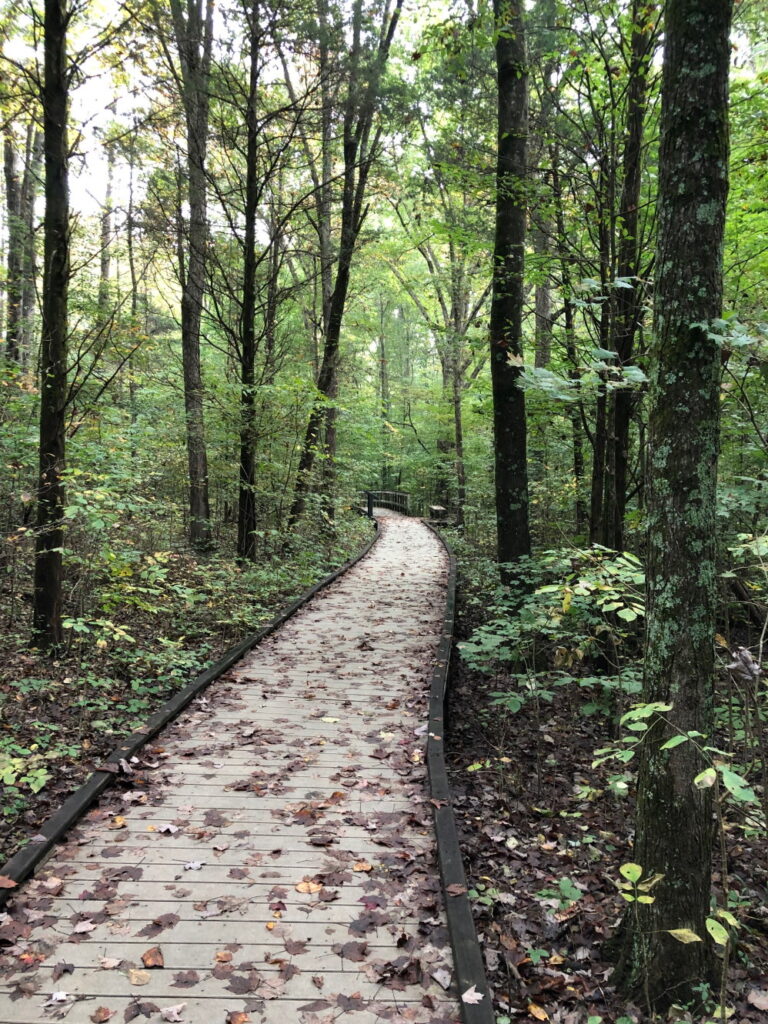 Sand Cave has a really cool story with this trail and since the hike is so short it is very much worth the stop. The trailhead is right by the entrance of the park so this is a good one to hit on the way into Mammoth Cave National Park or on your way home from the park.
---
I always enjoy camping with my son and this was a really great camping trip. We will have to make a return trip to Mammoth Cave National Park to go camping because there was so much to do we really couldn't pack it into a 1-night trip. We may have to go down early on a Friday and spend a weekend at the park.
Have you been camping at Mammoth Cave National Park? How was your experience? Let us know in the comments or on our Facebook page.