One thing that we can do as parents when we are tired is just to laugh. And what better way to laugh than reading some tired parent memes. All of the memes for today are either about being tired or kids who just don't want to sleep.
Kids jumping on you meme
This picture originally came from this article. It was such an amazing picture but those of us who have more than a few kids know this look when all your kids jump on you. The Crocodile is just being a good dad but the look he portrays just was funny to me so I made this meme.
Been tired for 10 years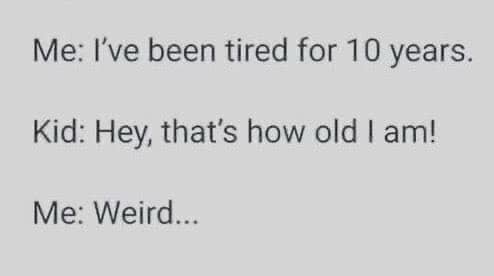 I have to say I want to know the origin of this meme. It probably was Twitter but I am not sure. But this is completely hilarious. Parents know this feeling and if you ever thought about saying this to your kids you are my kind of people. But why are we always tired?
I'm always tired
Recently daylight savings time happened. Parents everywhere probably just shook it off. Why? Because we are always tired so it wasn't much different for us. In fact, for our house, it was good because it means the kids actually slept until they were supposed to during the week. But getting them to bed is another issue.
I will put you to sleep
This resonates completely in our house. The first 30 minutes are always nice dad/mom and after 30 minutes of talking, asking to go to the bathroom, asking for a drink, flipping, and flopping. After 30 minutes …. JUST GO TO SLEEP!
Why cry bro? Just go to sleep
This one is from Twitter but is meme-worthy. Look baby we love you and we understand you are tired. Now just go to sleep, we are not stopping you, you are stopping you.
Go to bed early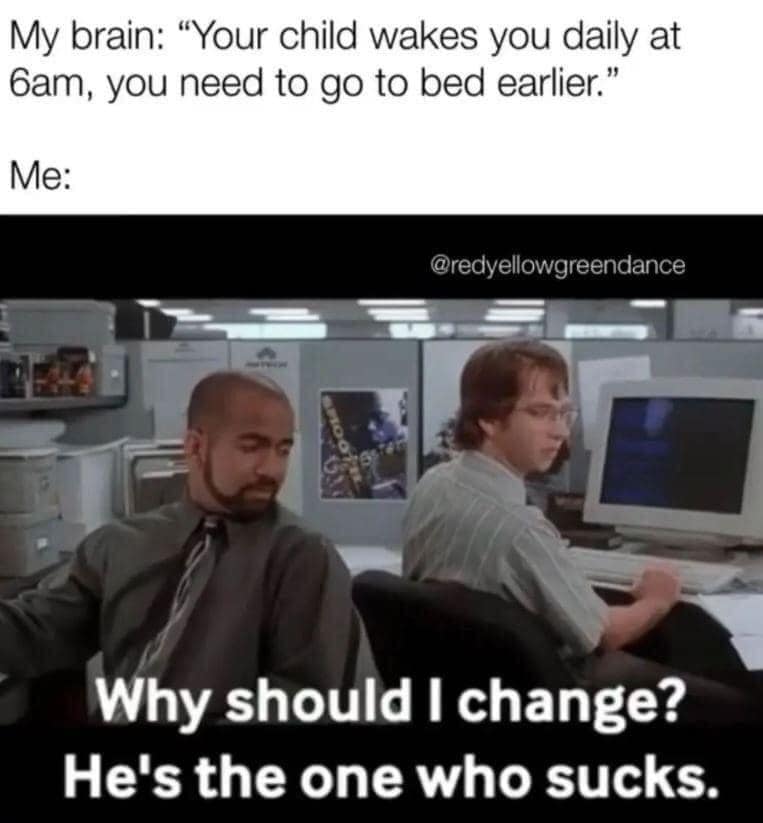 This one seems kind of mean. But really they do suck at times. Stop getting up early. The worst part is they will get up and be mad and grumpy and tired. Dude! Just go back to sleep and all that goes away. I'm glad my boys when they became teenagers realized this and they liked to sleep in.
Friday pizza night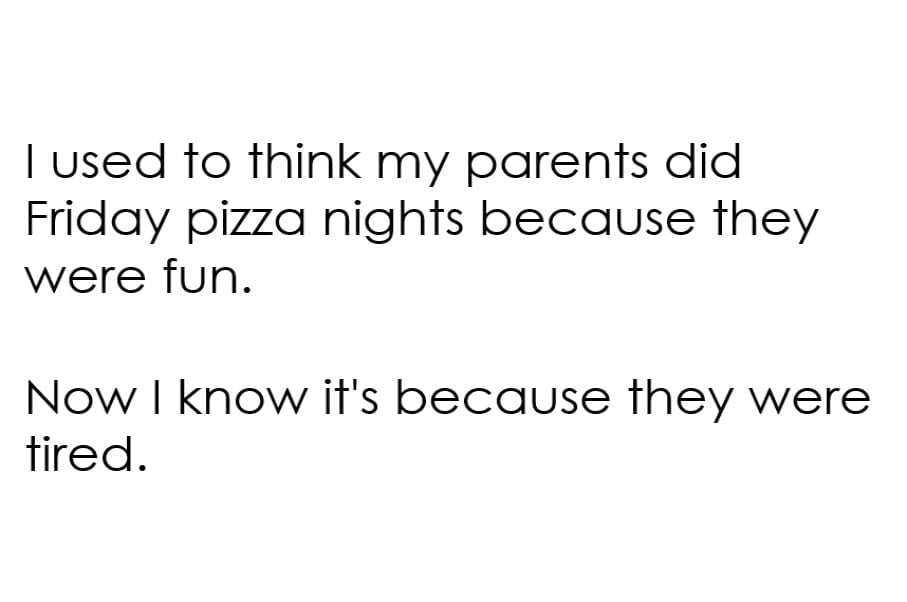 Who else does this? We do. Every night is family dinner night. Except we always go out to eat because everyone has had a long week and no one wants to cook. And if for some reason we have big plans to go out on Saturday we will still go and get some fast food because no one wants to cook on Friday nights.
Please don't get up
It's the weekend and you are sleeping well. Then you hear something in the house. You don't want to roll over and see what time it is but you know the kids are up and they are not going back to sleep. It happens every weekend. Maybe, just maybe, someday they will let me sleep in.
The dreaded afternoon nap
Oh, the dreaded late afternoon nap. Who else looks at the clock and starts crying because the kids are either taking a late nap or sleeping too late when they take a nap? It is a horror story in my house. When it is bedtime they will do everything in their power to avoid going to sleep.
---
Sometimes being a parent is hard and tiresome but we have parenting memes to keep us going. If you enjoy parenting memes hop on over to our Facebook page where I try to share parenting memes I find around the internet or ones I make myself.
*Any memes on this page or site may have come from outside sources. I try to credit where I can but sometimes I just don't know who made the meme. If you are the meme creator and can prove it please let me know so I can give full credit.