How I get Microsoft Game Pass Ultimate for free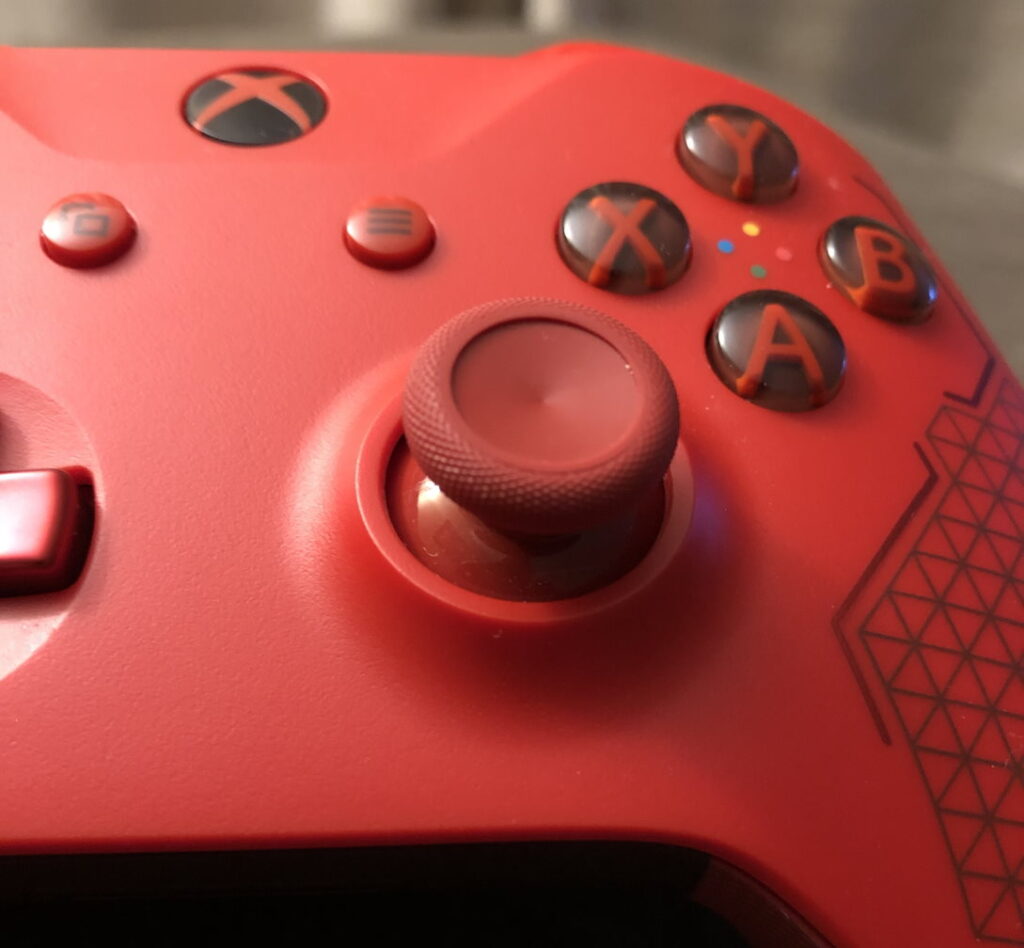 As a dad, I am always looking for ways to save money on things my kids love. And one of those things they love is playing video games. I myself have always been a gamer. And it was only natural my kids picked up gaming also. One of the things that have made gaming more enjoyable is having access to Microsoft Game Pass Ultimate.
Microsoft Game Pass Ultimate is a digital subscription service where you can download games to play on your Microsoft Xbox or stream games through mobile apps.
I have been using Microsoft Game Pass Ultimate to play games on our Xbox ever since the program was introduced. And by using Microsoft Rewards I have kept my subscription going without having to pay a renewal fee for the last year.
Microsoft Rewards is a point-based program where you achieve points for doing different activities either on the web, through a mobile app, or on the Xbox. You can then take those points and redeem them for various prizes.
How to sign up for Microsoft Rewards
If you log in to your Microsoft account and navigate to Bing.com you will see the rewards drop-down box in the top right corner. Or you can navigate directly to https://rewards.microsoft.com/
How to earn on the Web and Mobile
Daily Searches on Bing
If you navigate to Bing.com and make sure you are logged into your Microsoft account that is tied to your rewards account. If you are correctly logged in you will see a small rewards logo in the top right corner.
Currently, you can get up to 150 points per day for doing searches on Bing.com on a PC. And if you search using Edge you can earn an extra 20 points per day up to 600 points. You get 5 points for each search you perform.
Daily Searches on Bing mobile app
If you download the Bing mobile app on Android or iOS there is an opportunity to earn another 100 points per day. You can do searches for 5 points per search up to 100 points in the mobile app.
Daily Sets (Web or Mobile app)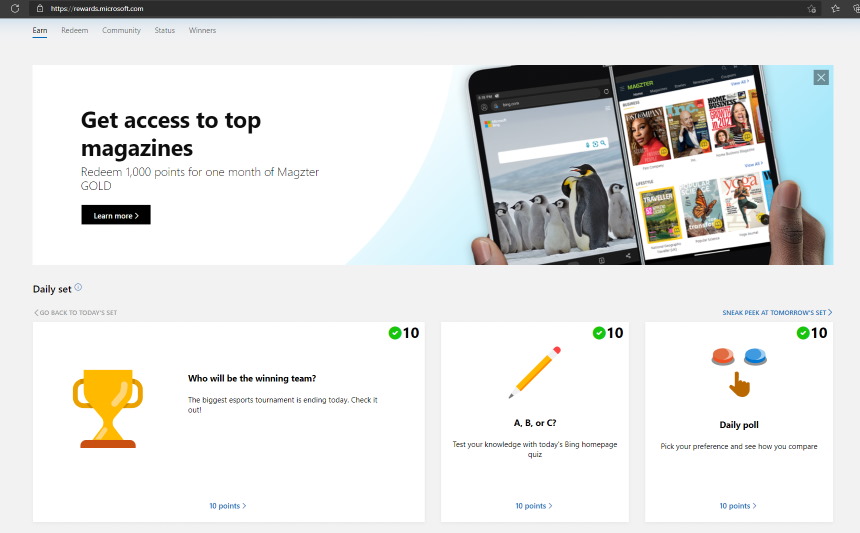 Every day there are daily sets available both online or in the mobile app. These typically are a topical search, a multi-question quiz, and a single-question poll or quiz. Depending on the day you can earn between 50 and 70 points per day with a daily set.
Then if you do the daily sets every day you can gain extra bonuses. Since I am at level 2 I get 45 points at 3 straight days. Then 75 point bonus at 7 days. You just simply have to complete consecutive daily sets to keep the bonuses coming.
Other ways to earn on web and mobile
If you navigate to https://rewards.microsoft.com/ there always seems to be random other ways to earn points. There could be a new feature to check out or maybe they want to direct your attention to a good cause to donate to. They don't add up to much but with a few clicks, you can earn another 5 to 25 points pretty often by checking out your rewards dashboard.
You can also get reward points for referring other users to the program. If you start and enjoy it and you have a friend that wants to join then send them a referral link and get yourself some bonus points.
Another program they recently started was Microsoft rebates. This is similar to programs like Rakuten or cash back programs on credit cards. You get so many points for spending X amount of dollars at select retailers.
Earn on the Xbox Microsoft Rewards App
Weekly Rewards Quests
When you log on to your Xbox you can navigate to the Microsoft Rewards app. If you haven't downloaded it to your Xbox you can go to the Microsoft Store and download it for free.
Every week starting on Tuesday the Microsoft Rewards app has a weekly rewards quest. There are typically 3 quests to complete to get a total of 100 points. Normally one quest is to watch a video or check out a game in the Microsoft store. The second quest alternates between getting 3 achievements during the week or opening the Microsoft Rewards app 3 times during the week. And the last one is usually a mix of getting points from other avenues or doing searches.
If every week you complete the weekly rewards you get bonuses for having a consecutive week's streak. The number of weeks you have to hit and the rewards vary but it is worth it to keep your streak going. Last year I had a 55-week streak and the only reason I lost my streak was that I went on vacation.
Monthly Bonus Quests
In the Microsoft Rewards app around the beginning of the month, there is usually a monthly bonus quest. This is a pretty easy quest to complete and they are worth up to 2000 points. Most times it consists of doing searches and maybe taking a quiz and then getting some achievements.
Game Pass Quests
Once you have Game Pass this gives you another opportunity to earn points, just for playing games. There are daily, weekly, and monthly quests just for Game Pass, and all these points count towards your reward points.
Just fire up a Game Pass title and you will snag a quick 5 points. Then if you earn an achievement you can earn 50 points per achievement. Sometimes they have quests for specific games. Check out the Game Pass rewards screen to see what specific quests there are.
Other ways to earn in the Xbox Microsoft Rewards App
Just like the web, there are few other places in the app to earn rewards. There may be videos to click on for 5 points or they may have offers if you spend X amount of dollars in the Microsoft store you get bonus points.
How do I get Microsoft Game Pass Ultimate for free?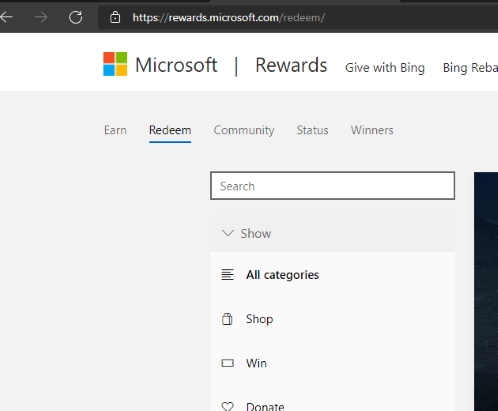 Redeeming your rewards
When you accumulate your points you can go to the rewards redemption page on the web or the redemption tab in the Xbox Microsoft Rewards app and redeem your points for digital items. Most of the prizes you can redeem for are eGift cards or donations but they still have a few physical items you can redeem for.
Some other rewards you can cash in points for:
Microsoft eGift Cards
Amazon eGift Cards
Donations
Sweepstake entries
One of the digital items they added was a 1 month of Game Pass Ultimate and 3 months of Game Pass Ultimate. Depending on your prize level you can get the 3 months for 35,000 points. This means you only need to average 12,000 points per month to keep your Game Pass Ultimate subscription going.
My monthly routine I follow to keep getting Game Pass Ultimate for free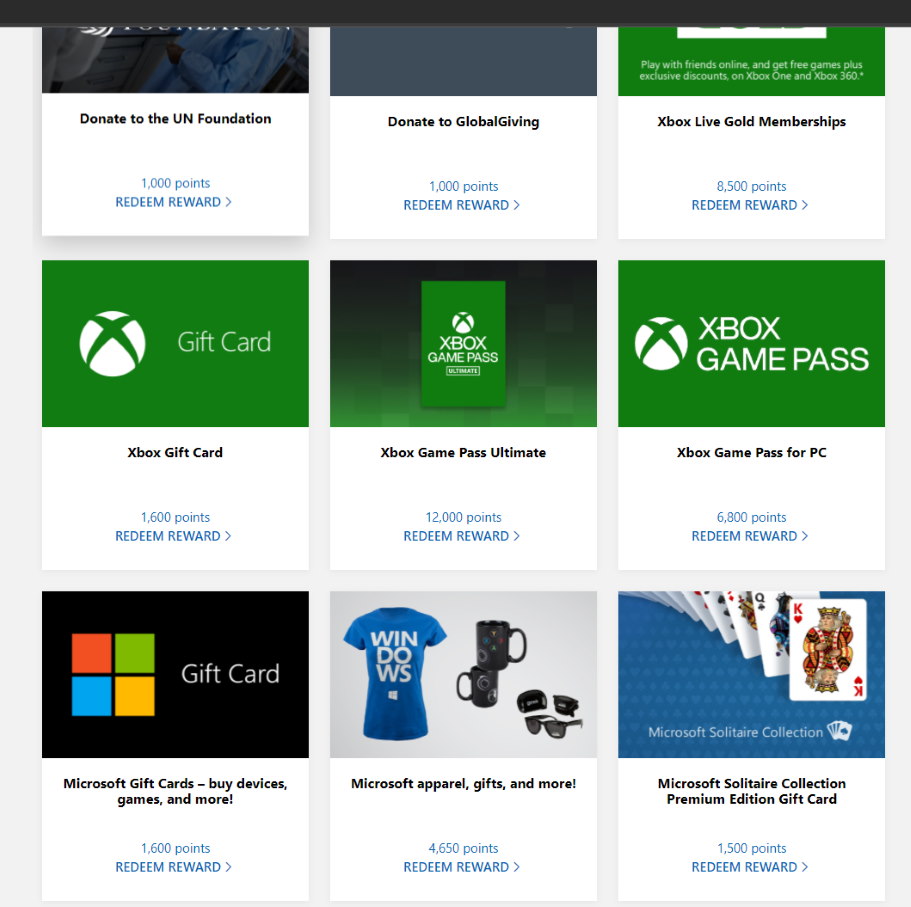 I want to preface any numbers you see for points and below with the idea that I am at Level 2. When you first join the program you will be at Level 1 and can quickly move up once you start consistently earning points. I maintain my Level 2 status by doing the activities below.
If you are just starting some of these numbers will seem unattainable but just keep going and you will reach Level 2 before you know it.
Every day I try to complete the daily sets on the web (using Microsoft Edge) and do the max number of searches.
This nets me about 6,000 points without even accounting for the bonuses for daily streaks. With the streaks, it usually is closer to 7,000 points. I will also do the searches on the mobile to max out for another 3,000 points. Just with that strategy alone, I can get almost 10,000 points per month.
I also try to complete the monthly bonus in the Xbox Microsoft rewards app for 2,000 points.
Like I said earlier I shoot to complete the weekly quests so that is another 400 points and if I get the bonuses sometimes that will be another 1,000 point bonus every other month.
So far I have done a pretty good job of not having to pay for Microsoft Game Pass Ultimate. There were a few months I slacked off because of going on vacation or just being busy and missed some of my streaks and days of searching. But really with little effort, you can easily keep your streaks going and earn a month (or three) of Microsoft Game Pass Ultimate.
---
Getting Microsoft Game Pass Ultimate for free is a relatively easy way to keep getting a lot of variation in your gaming library. Game Pass has over 100 games and seems to be adding more and more with each month.
Over the lifetime of the program, I have earned over 800,000 reward points. It takes a little work but the minimal effort to keep it going and working it into a routine can have you getting Game Pass Ultimate for free before you know it.
Have you ever used the Microsoft Rewards program? If so let us know in the comments or tell us about it on our Facebook page.