The Grind Mac and Cheese Burger Bar in Martin TN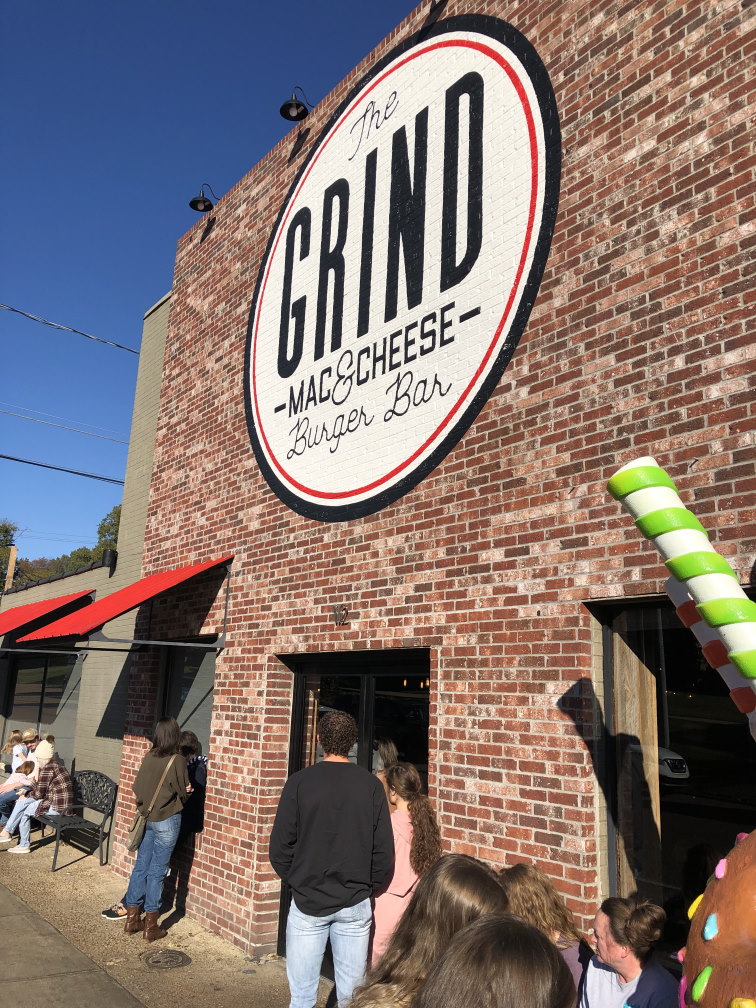 My son had a birthday recently and one of the things in our family that you get to do is pick your favorite place to eat. We found out about a little restaurant in Martin Tennesse called The Grind Mac and Cheese Burger Bar.
Ever since we ate there it seems we celebrate a birthday there just to give us a reason to eat there. We love it so much I thought I would share some details and some of my thoughts on The Grind.
Where is The Grind Mac and Cheese Burger Bar located?
The address for The Grind is 112 Lovelace Ave, Martin, TN 38237. It is located very close to the University of Tennesee Martin. You turn off the main University Dr to get to Lovelace and you can't miss it. The parking is limited so just find a good place on the street or get lucky and find a spot in their parking lot.
What are the hours for The Grind Mac and Cheese Burger Bar?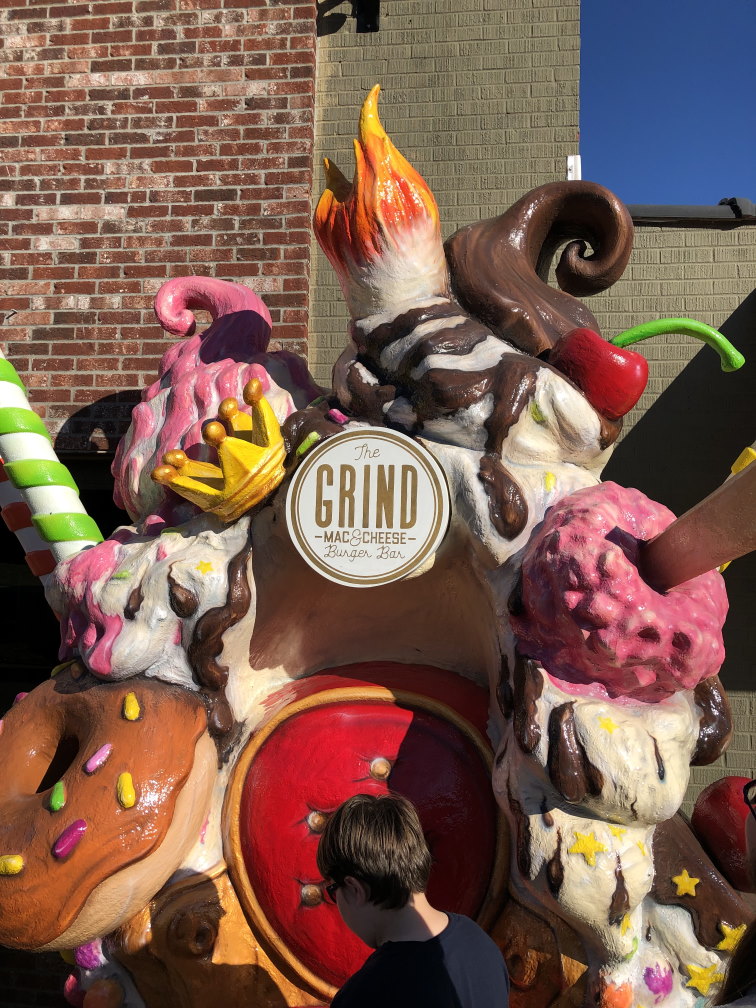 The Grind Mac and Cheese Burger Bar are open Sunday through Thursday from 11 AM to 9 PM and Friday and Saturday they are open 11 AM to 10 PM. These hours may vary on holidays. Check their website or their Facebook page for any updates to hours. Or you can call them at 731-587-6912.
When is the best time to visit The Grind Mac and Cheese Burger Bar?
I will say going as soon as they open is the best time to go. If you go during lunch or dinner on the weekends you might be waiting up to 2 hours (or longer). We visited on a Saturday and got there around 1:30 and it was 2 hours for a party of 8. If you have a smaller group you might get a seat at the bar and get seated a little quicker.
Just remember when you visit The Grind this is NOT fast food. This is sit down, relax, enjoy some food, have some laughs, and then enjoy some more food.
What type of food do they have at The Grind Mac and Cheese Burger Bar?
As it says in the name they have several different varieties of Mac and Cheese. But I think the menu items that really shine are their appetizers and their burgers.
Appetizers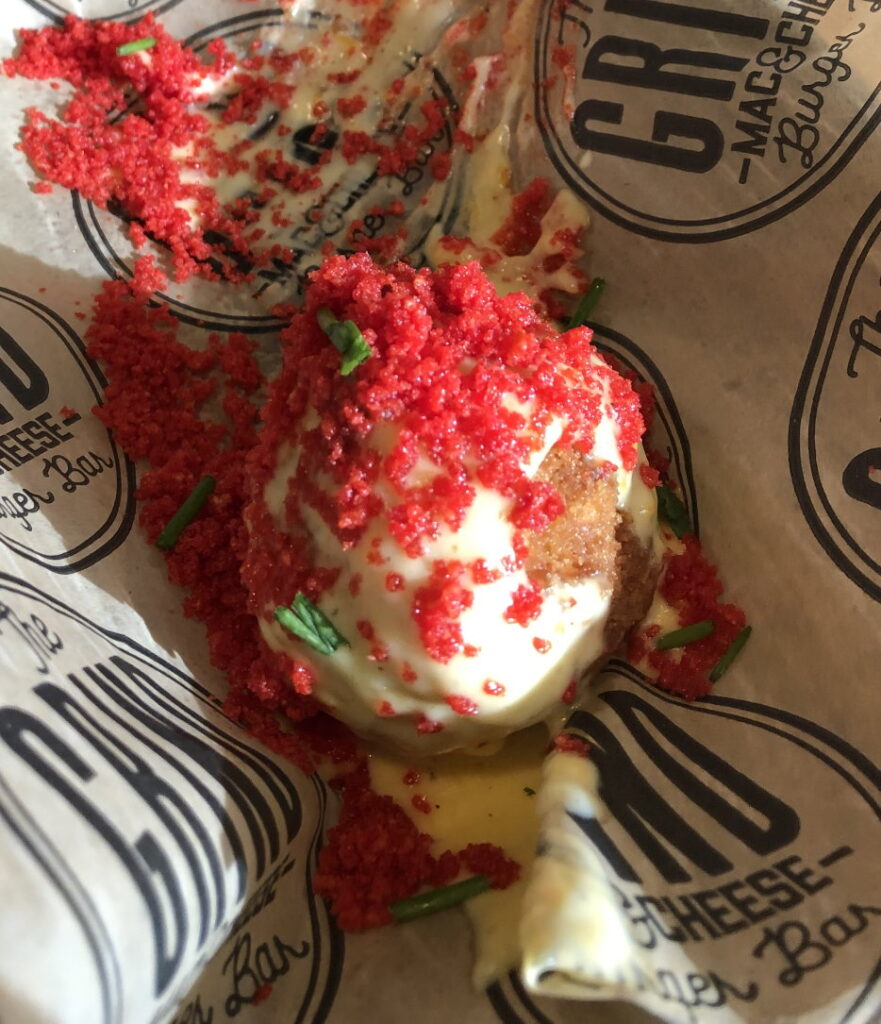 They have a great selection of appetizers. Two of our favorites are the mac and cheese balls and the cowabunga pizza rolls.  I have also had the grindhouse nachos and it is a literal bucket-load of nachos.
The mac and cheese balls are a ball of deep-fried mac and cheese with some hot Cheeto dust on top.
The pizza rolls have cheese, sausage, pepperoni, and sauce wrapped up in a flaky crust. 
The Luther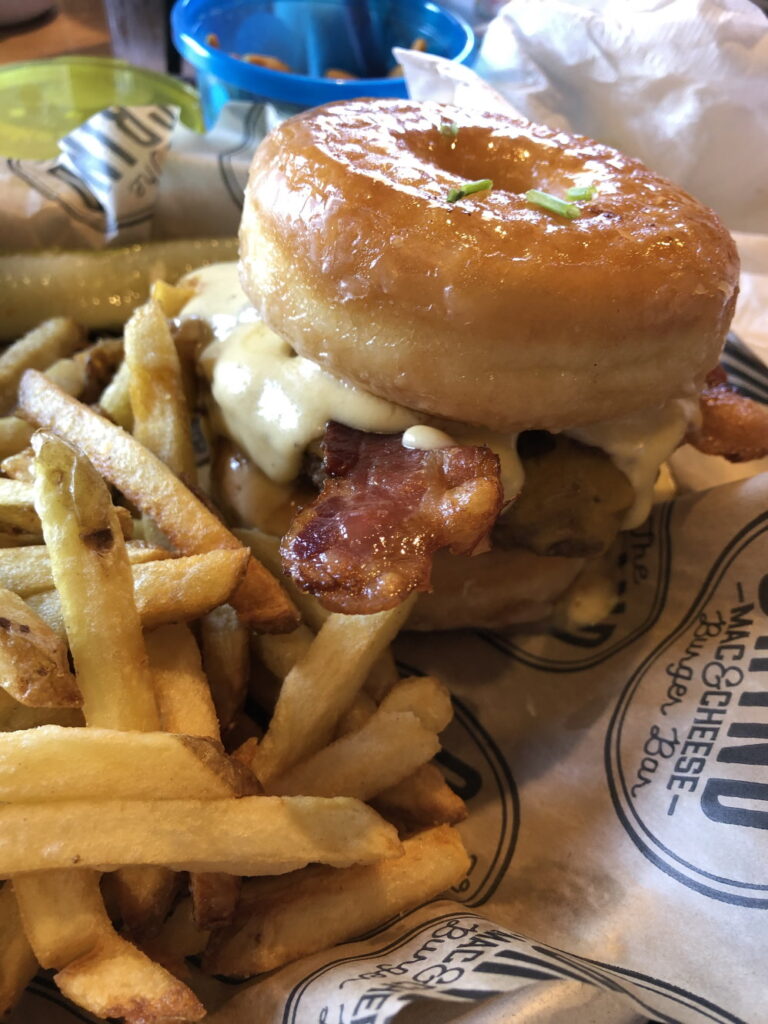 The Luther is one of my favorite burgers to get at The Grind. It is a bacon cheeseburger that uses a donut for the top and bottom bun. The balance of sweet and savory is so perfect with this burger. And I am a big fan of donuts.
Chicky Chicky Parm Parm
The Chicky Chicky Parm Parm is The Grind's take on a chicken parmigiana sandwich. It has a chicken breast, some marinara, and some fried cheese sticks. If you like chicken parmigiana then you will love this sandwich.
The Mac and Cheese
All of their mac and cheese dishes come cooked in an iron skillet. I have tried a few of the mac and cheese dishes and they are good. But I still think their burgers are a better choice.
The Shakes
The over-the-top shakes to me are the main reason we love the Grind. They come in a tall glass with whip topping piled so high you can't imagine how they ever stay up. You have the base layer shake, then a layer of whip topping, and inside that topping is usually a full ice cream bar and maybe a donut or maybe a pumpkin roll, or who knows. They are crazy. You just have to see the pictures to fully grasp how outrageous these shakes are. And how delicious they are.
For the kids
My kids get either the Uncrustables or the sliders. The Uncrustable is just a packaged Uncrustable sandwich so nothing fancy there. But the sliders are really good. If my kids don't eat their sliders I am really happy because I love their sliders.
The rest
They also have some other salads and sandwiches. I haven't tried much of that but they have a really good variety on their menu. Also, they serve beer and cocktails so if you are of age you can enjoy a drink while you are at The Grind.
How was the food?
The food is really good. I don't think I have ever ordered a meal and wished I wouldn't have eaten there. Everything is cooked really well and imagine if it wasn't I could send it back and they would be more than happy to remake it.
You also won't go home hungry. By the time you get an appetizer, an entree, and a shake you will walk out stuffed.
How is the service at The Grind Mac and Cheese Burger Bar?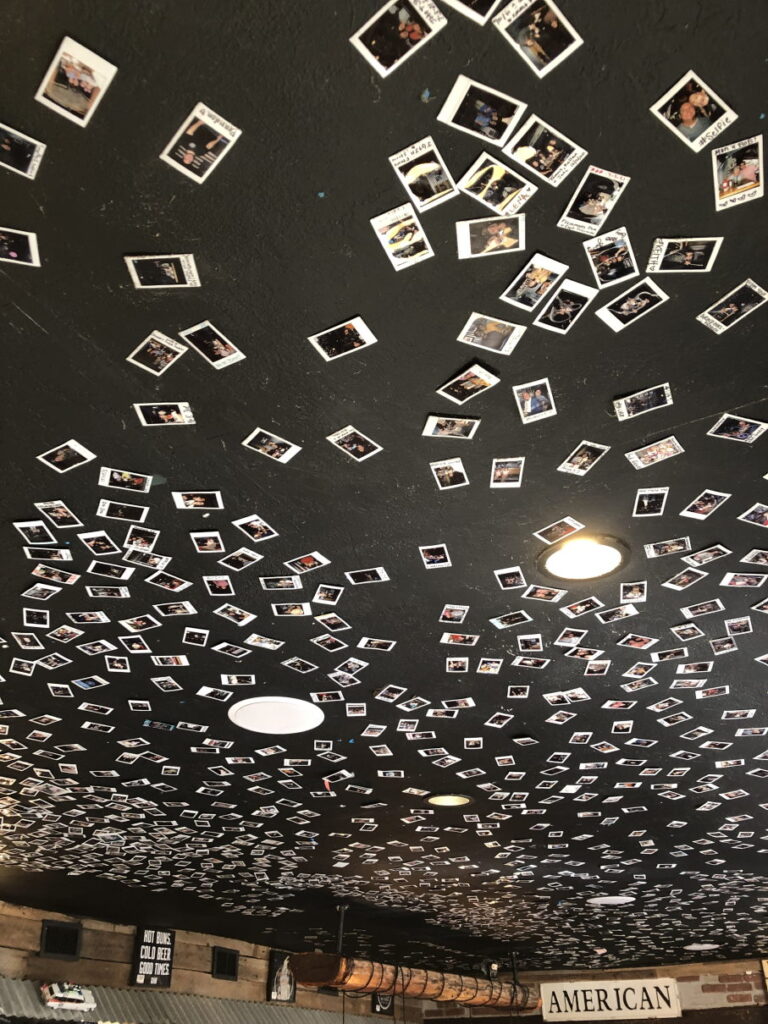 This is one of the things that helps define why they are so busy. It isn't a lack of staff. It's because you have such a fun time you may not want to leave. The Grind was founded because the owners wanted to have a fun atmosphere where not only the patrons had a good time but the staff have a good time.
It will be loud, it will be fun, and you will have a good time. The wait staff is all about getting to know you and being your friend and maybe being part of your family.
If you don't like waitresses that are personable and just want to be left alone. You picked the wrong place.
We also typically go there for someone's birthday and they always have a great birthday song or skit they will do to celebrate a birthday. From a sparkler in a shake to having fun with whipped cream, it will be a great birthday to remember.
What's the decor like at The Grind Mac and Cheese Burger Bar?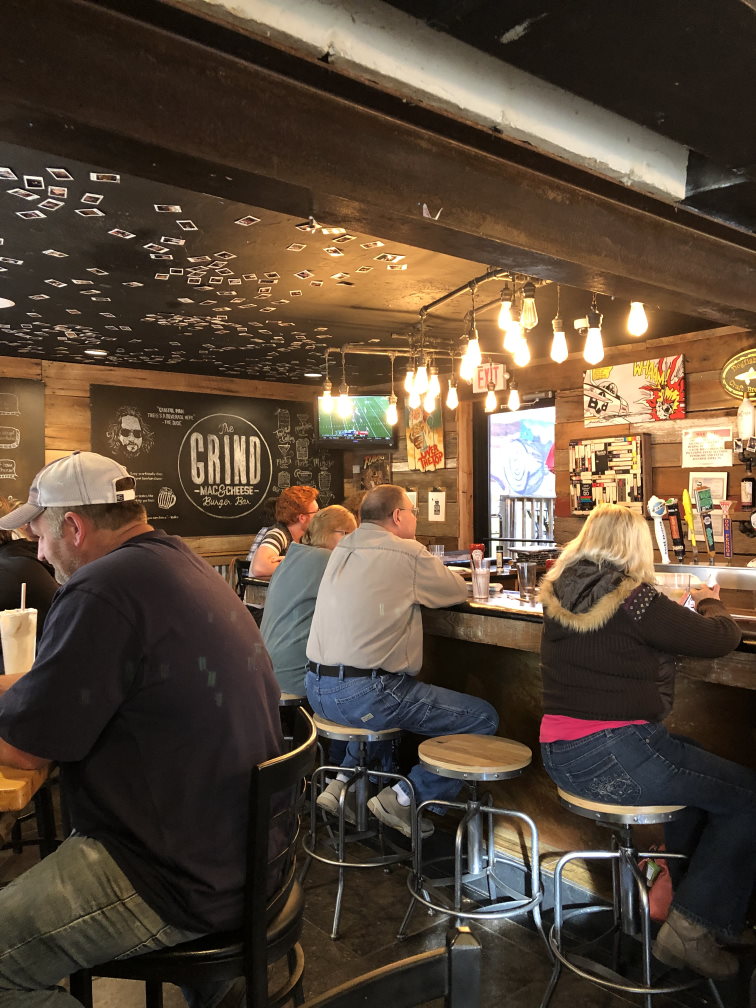 The Grind is all about being retro. They will have the 70s to 90s music blasting. The waitresses will be singing along with the songs and encourage you to join in. They have a NES on display. You will see lots of retro-themed decor items scattered around the bar. There are also pictures of patrons plastered all on the ceiling.
Final Thoughts
There isn't a lot of inside waiting area at The Grind. In fact, when you come in they will take your name and your phone number so you can wait in your car. There are few benches out front to sit on but waiting in your car is about your only choice.
And I will reiterate it here but this place is loud. If you have little kids that don't like loud restaurants you may want to find somewhere else to eat. 
---
o you have a favorite restaurant you take your family to for birthdays or other special occasions? If so drop us a link in the comments or tell us on our Facebook page.