Ferne Clyffe State Park Tent Camping
Recently my son and I decided to take a quick 1-night camping trip to Ferne Clyffe State Park. It was very last minute so I got online and looked to see what our options were for camping in tents in the park. According to the reservation site, none of the RV class sites were available.
But reading online I found that they had some walk-in sites but there was no information about how to reserve or even pictures of these sites to let us know what to expect.
About Ferne Clyffe State Park
Ferne Clyffe State Park is located just off of Interstate 24 in Goreville IL. The actual park entrance is off of Hwy 37 just south of Goreville.
The park contains electric sites, a horse campground, tent sites, and a group site. There are also several picnic shelters and hiking trails. A decent-sized lake is available for fishing only and most of the state park is self-serviced as I didn't see a single park ranger.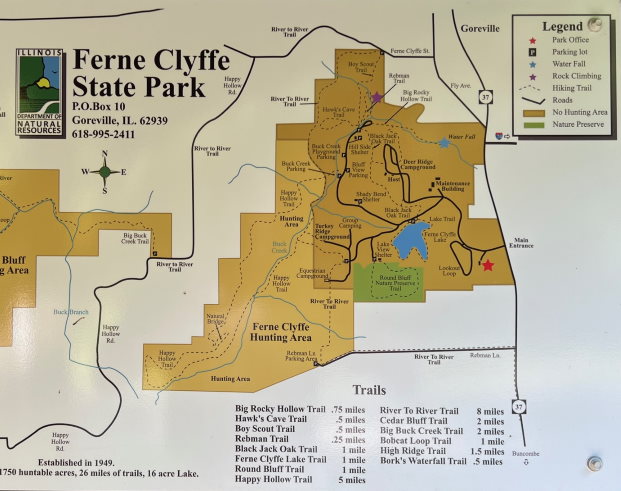 Deer Ridge Electric sites (can tent camp here)
The Deer Ridge campground hosts all of the electric sites. These are class A campsites with gravel, picnic table, fire ring, and electric hookups. You can tent camp here but all of the sites are very close together so you will most likely be right next to an RV.
There is a shower house and RV station for water and disposal. There is also a playground located within the campground. A trailhead starts in this campground that you can take to hike to the waterfall.
Shelters and picnic area
Scattered throughout the park are shelters and picnic areas. Most of the shelters were well maintained and had running water close to them. All of the bathrooms near the shelters were vault toilets and had no running water in the bathroom.
Several of the shelters had playground areas right next to them. The one shelter overlooking the lake did not have a playground but had a great view of the lake.
Most shelters also had a fire pit for cooking close by.
Trails
There are eighteen trails in the park. My son and I hiked two of them while we were there. If you drive past the shelters to the end of that road there is parking where you can access at least 5 trailheads that can be done in a day.
Bork's Waterfall Trail
This trail is the easiest way to get to the waterfall. They have recently done some additional work to this trail and it is very wide and has hardly any elevation gain. Even though the waterfall had no water the day we went it was still a beautiful site to see.
Hawk's Cave Trail
This is a short trail that leads up to a large shelter cave. There are actually two cave shelter areas but the biggest one is by far the most impressive. There are huge rocks to climb on and around.
This hike had a slight elevation gain but was very short. If you make the full circle the second half of the trail after the cave is not very wide but as you get closer to the beginning it opens back up.
Lake
The lake is very well maintained. As I spoke of before there is a shelter on the hill overlooking the lake and a wonderful trail that goes all around the lake. There are even a few tables and benches scattered around so you can sit and enjoy the views.
The fishing was really good. We caught a catfish, a ton of largemouth bass, a bunch of bluegills, and even crappie. According to the info sheet they stock the lake with trout during the winter.
We saw all kinds of wildlife also while fishing. We saw snakes, turtles, cranes, and frogs. At times it was very peaceful and just the occasional hiker but when it got close to sunset more anglers joined us to fish.
Turkey Ridge campground
The Turkey Ridge campground is a primitive campground. This is where you would go tent camping when visiting Ferne Clyffe State Park. There are 20 sites scattered around this campground. Some of them are spaced out while others are right on top of each other.
There are several different parking areas where you have to park your car and walk into your tent site. Some of the sites are very close to the parking so if that appeals to you I would suggest those sites.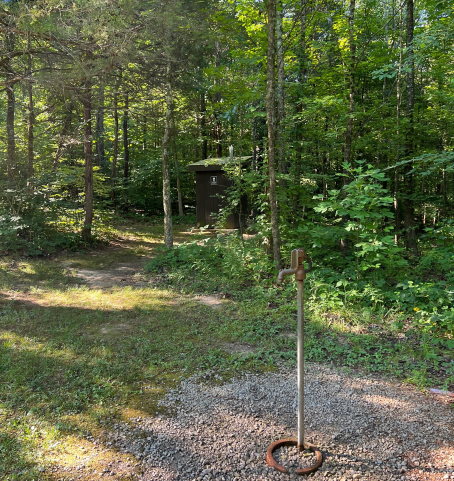 There are two vault toilets and a water spigot right next to site #1. We liked that idea and the privacy site #1 provided so we stayed there. We only saw one other family tent camping so it was a very quiet weekend.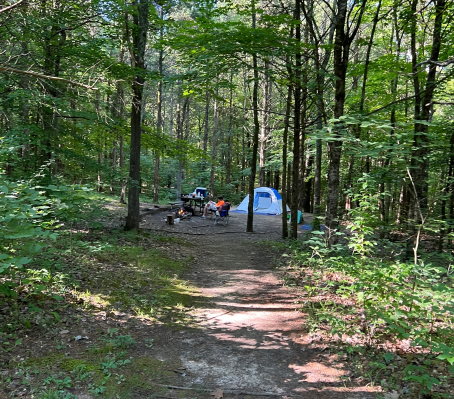 There are several other areas that look like maybe they are backpacking sites. They didn't have a number but they had a picnic table and a fire pit. Most of the numbered sites had a good area to pitch a tent, a picnic table, and a fire pit. 
The tent sites were self-register only and first come first serve. According to the board, you must set up your tent first to claim your site and then fill out your info.
Check-in and check-out are 3 pm for all tent sites. And the tent sites are $8 per night (as of 2022). They accept cash and check.
A trail runs right behind some of the sites. If you were so inclined to do so you could hike this trail and meet up with other trails. The trail ran just behind our site so often we would see and hear people coming down the trail and that was about the only noise we heard during the day.
At night it was fairly quiet. A few cars/trucks came and went through the night but the one thing that got me was the trains. There are train tracks just outside the state park and in the middle of the night, they sound loud. If loud noises bother you at night while tent camping you may want to bring some earplugs to help.
The maintenance crew came by early Sunday morning. I thought it was strange because they didn't pull the trash but they checked out the toilet vaults. Although the extent of the cleaning was sweeping it out very quickly.
The toilet vaults were awful and buggy. In fact, one of them had a wasp nest inside so not sure how well those are maintained. Seems like if they just hooked up a hose and sprayed it out that would help with the bugs and keep them a little more clean. But maybe they can't do that. And the toilet paper was the absolute thinnest I have ever encountered in my life.
There are also a lot of good trees which makes setting up a hammock to sleep in. My son slept in his hammock tent and had no issues.
---
Overall I would say that tent camping at Ferne Clyffe State Park was a great experience. There are plenty of trails, playgrounds, and good fishing. It was a shame the waterfall was dry but it was expected because of the dry weather we have experienced this summer.
I think this would be a good place for Scouts to camp out for a weekend because of the activities and good location for tent camping. The state park is also very convenient to the interstate so traveling to and from would be no issue.
And if you forget some supplies Goreville is a short trip (5 minutes). We stopped in and picked up ice and firewood at the big gas station and there is a Dollar General right next to the gas station.